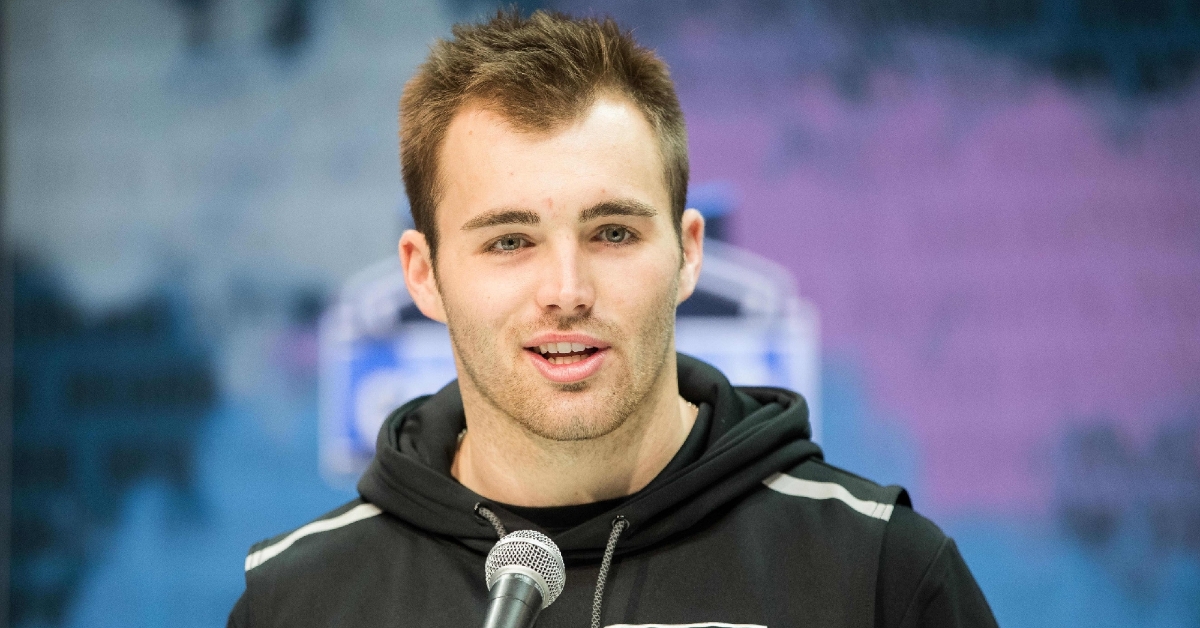 | | |
| --- | --- |
| What do 2020 NFL Mock Drafts look like for Chicago Bears? | |
---
All week long, we have been previewing different prospects whom the Bears should look into as the draft approaches. Today, we are going to dive into an even broader scale and look at how most mock drafts have the Bears shaking up in the 2020 NFL draft.
We have seen the Bears spend money this free agency primarily on the defensive side of the ball except for Jimmy Graham at the tight end position. That leaves the Bears with one glaring need left to fill on the roster, and that is adding depth to the offensive line unit. Sure, the Bears would like to add depth to both their secondary and TE spots as well, but the protection in front of the QB and RB positions should be the key focus moving forward.
Unfortunately, looking at recent mock drafts, it doesn't appear that many experts expect the Bears to draft toward O line help, which is kind of a concern if you ask me. Instead, we see a lot of expects begging the Bears to add secondary help early along with receivers.
Outside of the names, we have discussed over the week, plenty of other names are being tossed around as potential fits for the Bears. Those names include Florida International QB James Morgan, OSU OT Austin Jackson, Boise State OT Ezra Cleveland (my ideal selection for the Bears in round 2), Alabama CB Trevon Diggs (Stephon Diggs brother), Cincinnati TE Josiah Deguara, Rhode Island WR Isaiah Coulter, Clemson S Tanner Muse, UCF CB Neville Clark, LSU TE Stephen Sullivan, OSU WR Austin Mack, Michigan OL Jon Runyan (under the radar prospect), Michigan State DL Raequon Williams and Southern Miss WR Quez Watkins (potential late-round steal). Yes, a lot of these names may be unfamiliar and lower round selections, but most of them fit a position of need for the Bears, so it makes sense as to why they are associated with them.
Now we turn to Brad Biggs from the Chicago Tribune as he not only put together his most recent Mock drafts but picked the first 50 selections of the draft, which includes both Bears second-round selections. Despite Chicago not having a first-round pick, judging by what Biggs has investigated, he feels Chicago Is in prime position to land some top talent in round 2 this year.
With the Bears first pick, Biggs projects the Bears to go CB selecting Noah Igbinoghene from Auburn. He then expects the Bears to go offense at pick No. 50, selecting USC WR Michael Pittman JR. Both picks do make sense, while I would argue OL is more critical than WR in the second round. The Bears still have Allen Robinson and Anthony Miller as their top two WR's, so they don't need a legit threat until possibly until round three or four.
Another draft expert in Todd McShay has the Bears taking a similar approach, although with different players. At No. 43, McShay has the Bears addressing the CB position by selecting OSU CB Damon Arnette. While a bit more polished than Igbinoghene, Arnette isn't a burner on the outside and will have use technique and ball skills to get by. Pick No. 50 has the Bears going with speed as McShay has them selecting WR Jalen Reagor, who is known for his big-time speed and playmaking ability. Both are needs in the passing game, so I see the fit.
Chad Reuter recently completed his four-round mock draft and was one of the busiest in terms of actions. His draft featured six first-round trades, but none involved the Bears at this time. As a result of the movements, it left the Bears board wide open at picks 43 and 50, as they went Safety at 43 selecting Grant Delpit of LSU. Pick No. 50 was a familiar name for Bears fans as Purdue TE Brycen Hopkins, whom they met with at the Senior Bowl, came off the board. If you haven't noticed a theme yet, it has been secondary and pass-catchers thus far.
Next on the Mock draft list is Joe Marino from (The Draft Network). Sticking with the theme of secondary help, Marino pegs the Bears going all secondary in round 2, selecting Diggs at pick 43, and Lenoir-Rhyne S Kyle Dugger to the Bears at 50. Both offer long term solutions in the secondary for the Bears to build their future around.
Ryan Wilson of CBS Sports made the biggest headlines with whom he selected for the Bears with his mock draft. With the 50th pick, Wilson stuck with the secondary theme by going with Utah CB Jaylon Johnson. It was the 43rd selection which drew the biggest noise as Wilson chose the Bears to take Washington QB Jacob Eason with that pick. With the team not sold on Mitch Trubisky and recently trading for Nick Foles, does Wilson believe Eason is the answer long term?
The final Mock draft we will look at today is from Stephen Letizia from the Chicago Audible. His post-free agency mock draft was a bit more creative than most, that involves several trades and helped the Bears go from seven picks to eight. That is not a huge move, but it is noteworthy to add more picks. Among the prospects coming the Bears way were, Michigan OL Cesar Ruiz (50), Mississippi State CB Cam Dantzler (68), Georgia QB Jake Fromm (93), LSU OL Saahdiq Charles (107), Cincinnati TE Deguara (147), Boise State WR John Hightower (164), Michigan LB/Hybrid S Khaleke Hudson (197) and Memphis LB Bryce Huff (227).
Going over that list, you see most of the selections are positions of need, but they also lose their 43rd selection in the second round. I like the idea of acquiring that extra pick but wouldn't do it if it cost the Bears one of their two second-round picks. Other notable names on this list would Ruiz, who worked with new offensive line coach Juan Castillo when he was a consultant for Jim Harbaugh. Fromm is another exciting name as he is a QB proving that many feel the Bears will be moving on from Trubisky.