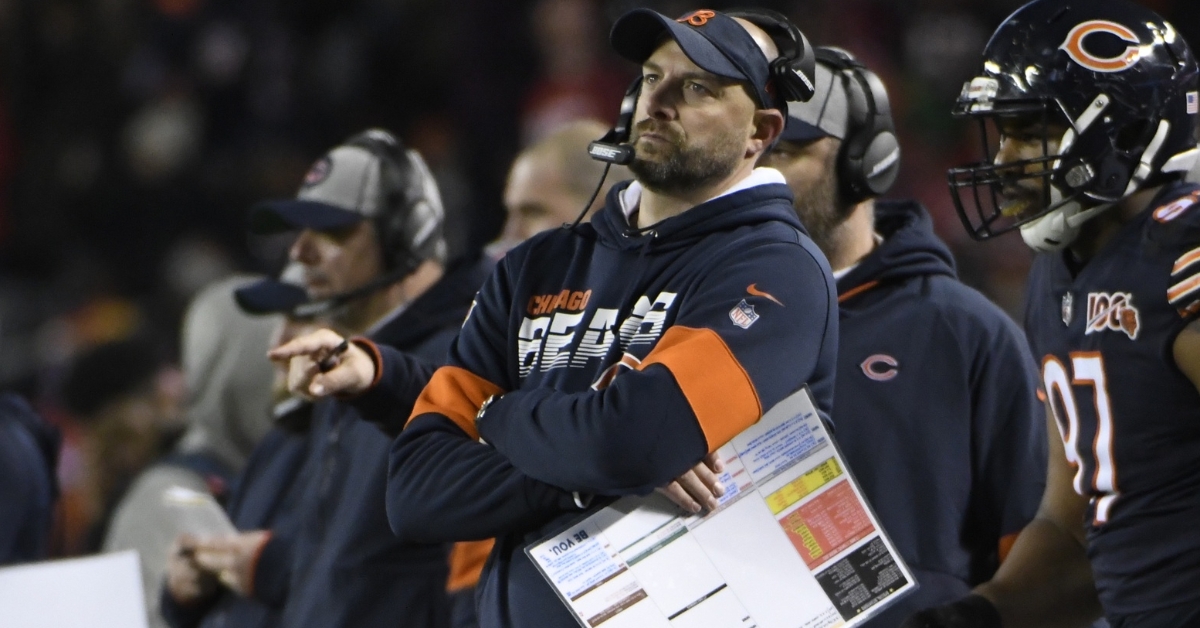 | | |
| --- | --- |
| Who should be the Chicago Bears draft on Day 2? | |
---
Day one of the NFL draft was undoubtedly filled with some surprises as several teams shocked the NFL world. You had the good in Miami, Dallas, and Minnesota as players like Cee Dee Lamb and Justin Jefferson somehow fell to them later than expected. Then you had the Packers do the unthinkable and trade up to nab QB Jordan Love, precisely 15 years to the day Aaron Rodgers was drafted. What does day two have in store for all of us?
Well, for starters, we finally get to see what the Bears are thinking as they will be on the clock twice today. With no first-round pick and limited picks in this year's draft, Ryan Pace and company are going to have to hit home runs with their 43rd and 50th pick if they want to make an impact in this year's draft. While we have already highlighted on positions of need and focused on several prospects more in-depth, the Bears are in an exciting spot as some names who we didn't think would slip through the first round can still be had.
One player is that of Alabama S Xavier McKinney. Graded out as a top 15 pick, McKinney had a horrible combine anchored a 4.6 40-yard dash. That alone could be the reason he fell so far. With the Bears needing a glaring need at safety to pair with Eddie Jackson, should he still be around near the 40-pick spot, Chicago needs to trade up to nab him. Much like Jefferson with Minnesota, it would be the steal of the day at that point.
Another highly regarded safety ripe for the taking is that of LSU star Grant Delpit. Graded as late first early second-round talent, it seems very likely that he could be around at pick No. 43, which would become the most obvious selection at that point. He is the perfect compliment to Eddie Jackson, and bringing him aboard would be nice.
Antoine Winfield Jr, Trevon Diggs, and Kristian Fulton were also all graded as first-round secondary talents who are still available on day two.
The Bears are also looking to add some depth to the pass-rushing side of things. Look no further than Yetur Gross-Matos of Penn State or A.J. Espensa of Iowa. I had Espensa going No. 22 to the Vikings with Gross-Matos going No. 31 to the 49ers, so seeing them fall is a bit surprising but not shocking. Both offer a high motor and a great compliment to both Khalil Mack and Robert Quinn, and the Bears would be wise to bring either aboard. DT Ross Blacklock is also on the board, but he will likely be one of the first five off the board on day 2.
Offensively speaking, the Bears have two primary needs and one that they need to shore up now more than ever. That need would be on the offensive line, and one player who I have highlighted before is still around in OT Josh Jones from Houston. I had him going 18th last night, but though he may slip to Minnesota at 25. The fact that he is still ripe for the taking is very surprising as this appears to be the Bears' most logical choice at the No. 43 spot at the moment.
Let's see he goes off the board before that, Ezra Cleveland is another offensive line talent that the Bears may want to bounce on, as he too had some first-round grades associated with him. The second position of need is the TE position, which unless Cole Kmet is around at 50, I think the Bears hold off on that until later in the draft unless they trade back in.
To sum things up, it would seem plausible that the Bears will be going offensive line and secondary at picks 43 and 50. Or does it? As the receiver prospects came together last night, things got interesting for the Bears as some intriguing options are left on the table. First-round talent Tee Higgins and Denzel Mims are both waiting to be selected as is K.J. Hamler. While Hamler was not expected to go before the third round, Mims and Higgins were looked at late teen early 20 selections.
When putting my mock draft together at home yesterday, I had Higgins going No. 21 to the Eagles and Mims going No. 30 to GB. While the Bears have no legit deep threat and Mims would certainly help that, Higgins is a better fit for Chicago. He is a position WR that can win one on one battles for jump balls and make all the catches necessary to move the chains.
Regardless of what the Bears do today and the rest of the weekend, controversy will come from it as some people will like the pick, and some won't. However, as things played out last night, the Bears have more options today than I think anyone expected them to have. Look for the Bears to fill one need and then take the best available player after that.
My prediction: Ezra Cleveland at No. 43 and Winfield at No. 50. The Bears will shift all their focus to O line with their first pick and will pray Jones somehow falls to 43. I don't see that happening, meaning Cleveland becomes the man at 43. Pick 50 is a different story as the Bears could use that pick a variety of ways. If they feel they won't get their target, they could trade back and acquire more picks.
While I would like them to add a TE here, I think they go defense and add Winfield to help Jackson on the back end. He is the type of safety they are looking for and can switch to corner should the Bears see fit. Regardless of what happens, this year's draft will be a fun one.
Stay tuned as I will be doing a prospect breakdown of all Bears selections next week one a day.
Upgrade Your Account
Unlock premium boards and exclusive features (e.g. ad-free) by upgrading your account today.
Upgrade Now