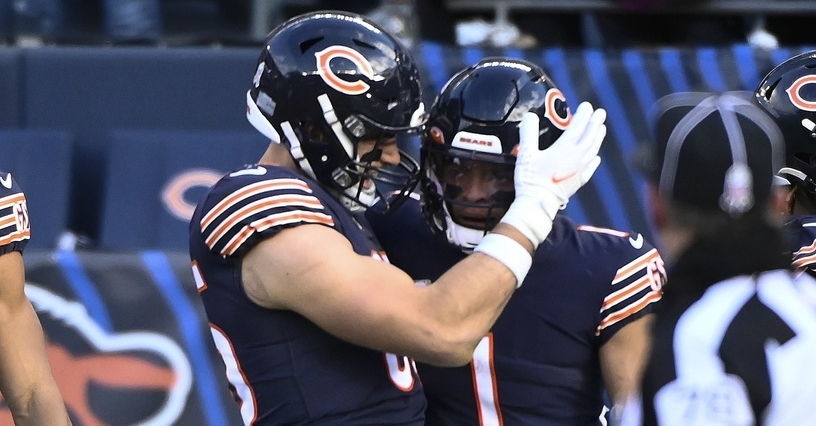 | | |
| --- | --- |
| 2022 Season Report Cards: Cole Kmet, Ryan Griffin, Trevon Wesco | |
---
| | | |
| --- | --- | --- |
| Wednesday, January 25, 2023, 8:32 AM | | |
Having a great TE is a critical component of every successful offense. However, in a day and age where more teams are going with three WR sets with one RB, pass-catching TEs are starting to become a thing of the past. Sure, you still have the Travis Kelce's of the world, but those are rare, with most teams looking for block-first TEs that can make plays when called upon.
When it comes to the Bears, not only is the TE position critical to their offense, but you could argue that it is the most important position in the Luke Getsy system. Not only do you have to know how to run block, but you have to have a trusted safety valve for Justin Fields, who is often running for his life.
Chicago benefitted from great TE play this season which was a pleasant surprise when you look at previous years. It will be interesting to see what the team does from here, but this position needs to be left alone.
For all those people who either didn't believe in Kmet or wanted him released after this season, owe him an apology. After an abysmal rookie season, Kmet started to assert himself in the offense more in 2021 and ended up with nearly 700 yards receiving.
This season saw Kmet make even more strides as he was the focal point of the Bears' passing game in the Getsy system. Despite having fewer yards than a season ago, Kmet still finished with 544 yards receiving to lead the team. He also added a career-high seven touchdowns, leading the team and becoming the most trusted option for Fields this season.
Grade A-: How can you not like what Kmet did this season? After entering the year with plenty of question marks, Kmet answered many of those questions and proved he is one of the better TEs in the league. He has become an essential piece of the Bears' offense and will play a massive role in Fields' development. Chicago will have to extend this man after this season, and he should be one of their top priorities on the offense.
Ryan Griffin
Unlike in 2021, when the Bears carried as many as 10 TEs in camp, 2022 was a much different picture as they had four TEs in camp. Three of them made the roster at one point or another during the season, but Kmet was the only one to produce. That is surprising when you look at Griffin and the type of player he is.
Not a starter by any means, Griffin has been around the league for a while and has played a very good No. 2 TE spot. He averaged around 350 yards receiving per season while adding a couple of scores, so having him as depth was a great choice. However, with four catches for just 26 yards, Griffin did nothing to earn a spot next season and will most likely be shown the door this offseason.
Grade F: Most fans were not expecting much from Griffin this season, but were expecting more than what he gave them. This guy was supposed to come in to give Kmet a breather, but the Bears would have been better off playing Kmet every snap.
Trevon Wesco
Fans tend to forget there was a third TE on the roster, but you can see why. Much like Griffin, Wesco did very little for the Bears this season, and some were questioning why he had a roster spot at all. He did manage to haul in a 23-yard completion this season, but still finished the season with just 26 yards on two receptions. Because of that, he earns an incomplete grade, as he wasn't on the field long enough to consider anything else.