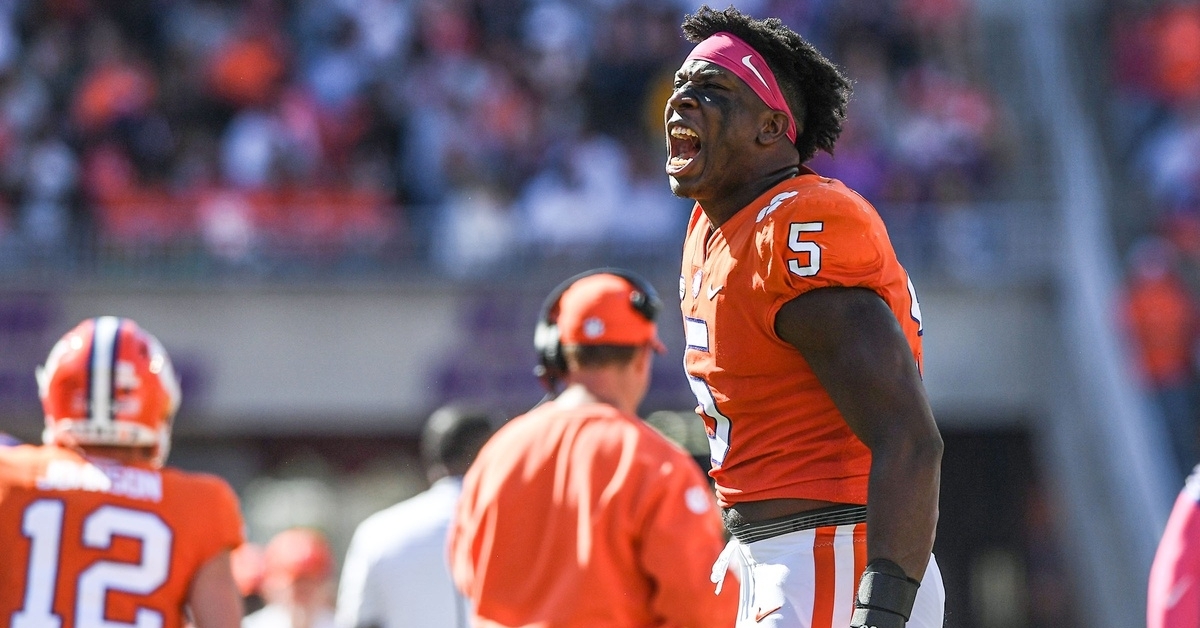 | | |
| --- | --- |
| Bears Draft Target: Standout DE KJ Henry | |
---
| | | |
| --- | --- | --- |
| Saturday, January 28, 2023, 8:11 AM | | |
KJ Henry is a fifth-year defensive end out of Clemson University, who has produced a lot of NFL talent particularly on defense. While the Bears will most likely be drafting a defensive player with their first round pick, they are in need of multiple defensive players to help them improve overall as a defense. With his major in Sports Communication and Masters in Athletic Leadership, he is a smart player that shows high potential going into the draft.
His greatest strength is his pass rush ability, which ranks in the No. 83 percentile among defensive linemen going into the draft this year. In addition, he ranks in the No. 78 percentile in pass rush and No. 77 percentile in tackling. While he may not possess the elite stats of first-round talent like Will Anderson out of Alabama, he is a well-rounded player that could go a lot later in the draft. Furthermore, the Bears are in need of a pass rusher after having only 20 sacks this season, the lowest out of any NFL team this season and the lowest the Bears have had since the 2003 season (18 sacks).
In addition, he also shows good speed, ranking in the No. 79 percentile among defensive linemen coming into the 2023 NFL Draft. However, he lacks in size. His height ranks in the No. 55 percentile, while his weight is in the No. 20 percentile. He also ranks low in hand size (No. 59 percentile), arm size (No. 26 percentile), and wingspan (No. 26 percentile). While this could be viewed as him lacking physicality, that is not the case. He does show good physicality, although he does need to improve in setting the edge as a run defender a bit more.
However, Henry has the advantage of being able to show off his talent at this year's Senior Bowl on February 4 (2:30 p.m./NFL Network). This will give Chicago even more of an opportunity to see him against high-level players and to show off his talent to teams that may not be giving him as much attention.
There might be some question as to why the Bears would draft him. Common projections have Chicago drafting Will Anderson out of Alabama; however, Anderson alone will not be able to solve Chicago's problems on defense. Henry is a player that is not getting a lot of attention from NFL teams. He most certainly is not getting drafted in the first round, and most likely will not get drafted in the second or third round. Currently, the Bears have two fourth round picks, two fifth round picks, and a seventh round pick. Furthermore, while they have $115,155,561 in salary cap space, the Bears are not going to spend that all on one position or a few players. The money needs to be used strategically, and good pass rushers are expensive to acquire in free agency. Besides, not all pass rushers have to be drafted in the first round. For example, Matt Judon on the Patriots was fourth in the NFL this season in sacks with 15.5, and he was drafted in the sixth round back in 2016.
Drafting Henry in a later round will allow the Bears to use their higher picks, especially if they trade their No. 1 overall pick and acquire more draft picks, to focus on other positions, primarily their offensive line and their wide receiver core. Some of these things can also be addressed in free agency, but in developing a good team, the common trend in the NFL has been to draft young players who make an impact early on while they are on a rookie contract. This is what the Bears are currently doing with their quarterback, which is also giving them more flexibility at other positions.
There are a number of things the Bears will do in free agency that could affect whether they will pursue KJ Henry or not, but he is someone that Chicago should keep in mind for a pick on the final day of the draft. Day three of the NFL Draft will be on Sunday, April 29, on NFL Network.