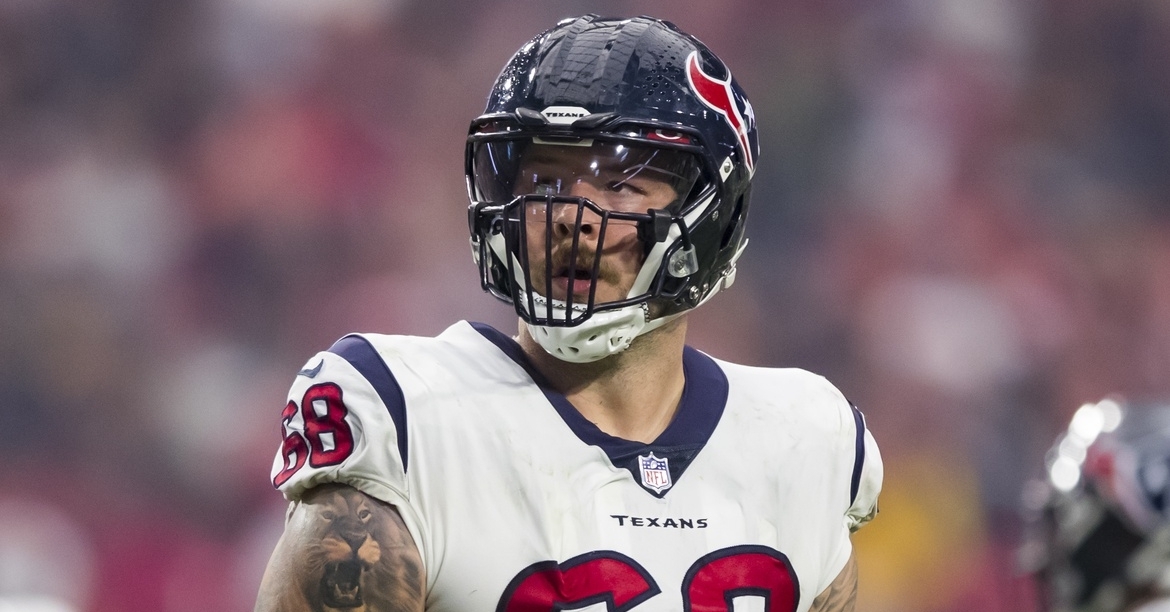 | | |
| --- | --- |
| Three offensive free agents who could help the Bears | |
---
For the first time in what feels like forever, the defense is not the strength of the Chicago Bears, but instead, it is an offense that took significant strides forward last season. They have a franchise QB in Justin Fields, who still has growing to do but is one of the more dynamic players in the game and showed that last season.
They also have an incredibly talented and deep WR room headlined by DJ Moore, who they acquired in a trade, Darnell Mooney, who broke out in 2021, and Chase Claypool, who is expected to make significant strides this season. Throw in Cole Kmet, who has a terrific connection with Fields, and the Bears passing game will be vastly improved this season which should open things up in the running game.
That alone is scary to think about, considering the Bears led the NFL in rushing a season ago. They do lose David Montgomery, who signed with the Lions, but they added Roschon Johnson via the draft and also brought in D'Onta Foreman in free agency to once again give the Bears a dangerous and balanced rushing attack.
Even at that, you can never have too many offensive weapons, as the NFL has transformed into an offensive-minded league. Ryan Poles knew that when he took over as GM of the Bears and has made sure to pour some of his resources into Fields and building an offense around his strengths. You saw those strengths last season, and this season should be the icing on the cake, as big things are coming for Chicago.
Despite the offense appearing set on paper, don't expect Poles to sit on his hands until training camp. With more than 30 million left to spend, Poles will continue to search for talent and may look to bring in some depth pieces for this offense. What he chooses to do with those pieces is a topic for another day, but he wants to make sure Fields has as many weapons as possible when the season starts.
Justin Britt (C Houston)
One of the most overlooked units in football is arguably the most critical, which happens to be the offensive line. This unit makes the rushing lanes and is tasked with protecting your QB and keeping him upright long enough to throw. This has also been one of the Bear's most significant issues since 2018, and it has taken them years to figure things out.
Although far from perfect, the Bear's offensive line is in the best position they have been in a while, and adding Britt to the mix would make them even better. Of all the free agents left on the board, Britt to the Bears makes the most sense, even if Chicago is content with moving Cody Whitehair back to Center.
The Bears also brought in Lucas Patrick last season, who started the year injured and looked awful once he took over. Britt would help the Bears solidify that Center position, improving the offensive line. One of the biggest strengths for Britt is run blocking, which Luke Getsy and this Bears offense specialize in. This is a perfect fit if the money is right, so don't be surprised if this move comes to fruition.
Kenny Golladay (WR NYG)
As mentioned, the Bears will have a vastly improved WR room this season, starting with the three players mentioned above. Along with them, you still have Dante Pettis, Equanimeous St. Brown, Velus Jones, and even the possibility of N'Keal Harry returning to give the Bears a plethora of weapons. With so many faces in the WR room, does it make sense to add another one?
Well, it does if that player is better than a portion of that room, as Kenny Golladay could be an option for Chicago. As a former Detroit Lions WR, Chicago is very familiar with Golladay. He emerged as a legitimate No. 1 with the Lions before inking a Free Agent contract with the New York Giants following the 2020 season. During his time with the Lions, Golladay put up some excellent numbers as he finished with 1063 yards in 2018 and 1190 yards in 2019 while also bringing in 11 TDs during the 2019 season.
He was on pace for another 1000-yard season in 2020, only to have a hip injury derail that from happening. That was the beginning of an injury-plagued last few seasons for Golladay, whose best days could be behind him. The results were not great during his two seasons with the Giants, as he played in 28 games, with 18 coming as starts. Across those games, Golladay hauled in 602 yards and one score, a shell of his previous self.
Given that he is 29 years old and coming off a series of injuries and rough seasons, his future in this league is in doubt, and he may not be a fit for this team. However, if the price is right, it wouldn't hurt to take a flyer on him to see if he has anything left in the tank. At worst, he does produce, and you could use him as trade bait to pick up another asset during the season.
Cameron Brate (TE Tampa Bay)
Having a legitimate pass-catching TE is crucial in this league which the Bears have in Kmet. However, what happens if Kmet goes down? As things sit, the Bears have some backup TEs on this roster, but none can be trusted long-term should something happen to Kmet. Cameron Brate is not only a Free agent but a TE that would be a nice pairing with Kmet.
Entering his age 32 season, Brate is nearing the point in his NFL career where his days as a starter could be over. With that being said, the Illinois native may want an opportunity to play in front of his hometown fans to finish off his career. With Kmet being the clear-cut No. 1, Brate could come into Chicago and join Robert Tonyan as the backup to give Chicago an excellent TE trio to work with.
Brate was never elite, but he brings a great deal of experience, not to mention Super Bowl experience, to the table. He is a solid red zone threat and adds a little to the receiving game despite never gaining more than 700 yards in a season. Despite not topping 350 yards since 2017 and not having a single TD last season, yards are not everything in the NFL. Scoring TDs is, and Brate has always been known to be, a significant Red-Zone threat which is something Fields would love to have.