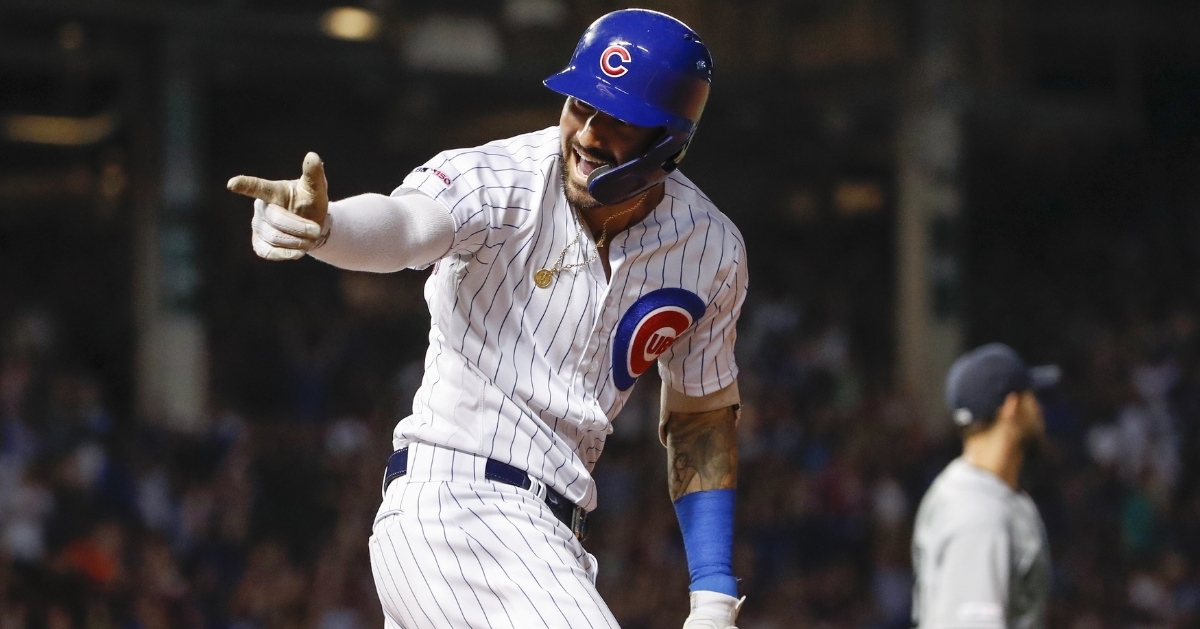 | | |
| --- | --- |
| Commentary: Losing Nick Castellanos may work out for Cubs | |
---
Nick Castellanos decided to sign with the Cincinnati Reds Monday, erasing some of the last hope Chicago Cubs fans had for a reunion. While Castellanos will be missed on the North Side, his departure is not entirely surprising considering the Cubs' current roster and his defensive ability.
Castellanos was an instant contributor with his bat when he joined the Cubs. Despite that, Castellanos is a known defensive liability. His defense has steadily improved since moving to the outfield in 2017, averaging only two errors across three seasons.
The advanced statistics are not as glowing of Castellanos. In terms of defensive runs saved above average on baseballreference.com, the former Detroit Tiger has registered negative scores at every position he's played. While he isn't as bad as he was primarily a third baseman, Castellanos's defense was never a selling point. Even with improving defense, Castellanos would have to play primarily a corner outfield spot, moving former Gold Glove right fielder Jason Heyward to centerfield.
Heyward is locked into a long-term contract, making Heyward a priority over new acquisitions. Many thought Heyward would adjust well to centerfield, but the opposite has happened. Below is a breakdown of Heyward's DEF ranking according to Fan Graphs and his innings in both center field and right field.

As you can see, Heyward's defense has steadily declined with age. His worst scores are in centerfield, especially when he's asked to play more centerfield than right field. If Castellanos returned, Heyward's defense would likely become a massive drag on the team's overall defense. With an outfield that would look like Kyle Schwarber, Heyward, and Castellanos from left to right, there would be a lot of balls dribbling to the ivy.
With Heyward securely in right field, he can extend his defensive ability until the end of his contract. While centerfield may be a roster hole, extending Heyward's ability to contribute defensively is the best move for the organization.
While defense is definitely a reason as to why Castellanos did not return, the second half turnaround of another corner outfielder urged the Cubs to not overspend on another outfielder.
While it was overshadowed by Nick Castellanos's impressive final month, Kyle Schwarber had an incredible second half. In the second half, Schwarber hit 20 home runs, a .997 OPS, a .280 batting average, and a .631 slugging percentage. Below are Schwarber's first and second half splits.

As you can see, Schwarber's 2019 was a tale of two halves. While his home run and run production stayed consistent, the Cubs would certainly like to see more of the second half Schwarber in 2020. The former top prospect will only be 27 years-old in 2020, so his breakout could be on the horizon. For a player scouted as a version of "Babe Ruth" by the Cubs, he could finally be rounding into form.
While the Cubs would have loved to have both a rising Schwarber with Castellanos, keeping Castellanos would force the already luxury cap tight Cubs to trade a player in Schwarber they see as up and coming. While other players like Albert Almora Jr. or Ian Happ could have also been trade casualties, both players are still under team control until 2022 and 2023 respectively.
Getting under the luxury tax has been the headline for the Cubs 2019 offseason. By signing small contracts on players who can contribute on the bench or bounce back from injured or down seasons. If the Cubs re-signed Castellanos to the contract he received from the Reds, four-year $64 million, the team would be well above the tax threshold. Sadly, the Cubs had to let Castellanos walk, despite the inevitable anger from fans and analysts alike.
Enjoy the best moment of Castellanos's short time in blue pinstripes and try not to think about him doing this in Great American Ball Park.
Nick Castellanos slammed his bat after hitting another home run with the Cubs.

The Tigers watch as another star shines elsewhere. pic.twitter.com/3OtyMlbQqd

— Brad Galli (@BradGalli) August 30, 2019
No one wanted Castellanos to leave. He reinvigorated a team and fanbase that had little to root for before the trade. Losing Castellanos had more to do with the teams' circumstances and not his play on the field. The last thing to say about this unfortunate situation is, thank you, Nick Castellanos, for bringing fun back to Wrigley. Even for a little bit.