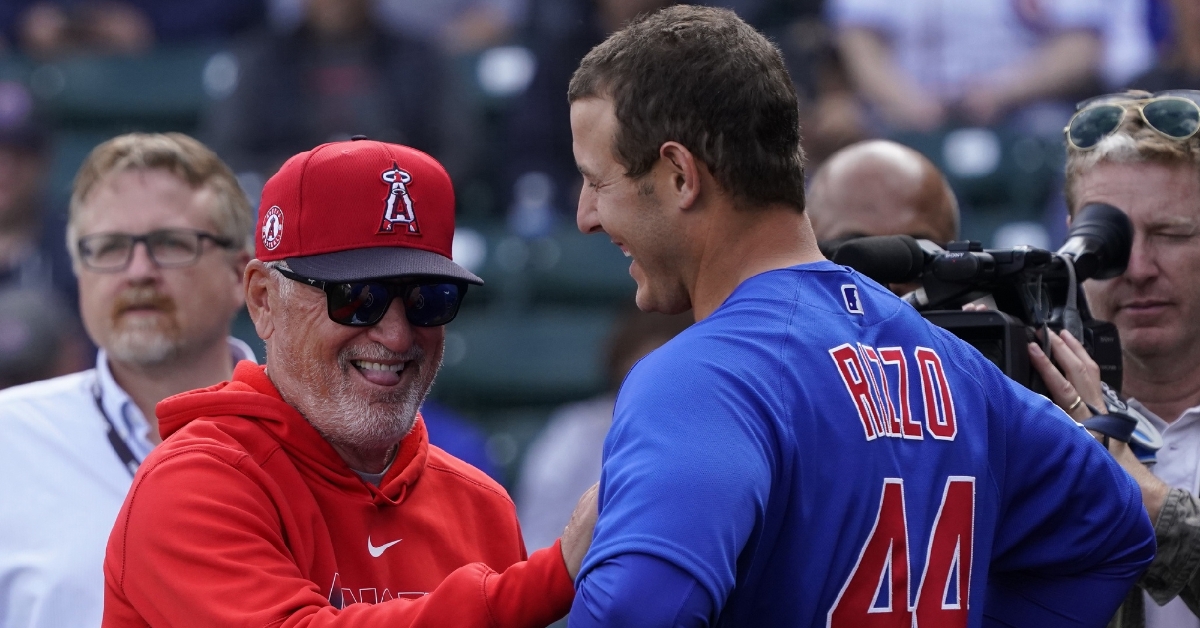 | | |
| --- | --- |
| Cubs News and Notes: Cubs split two games, Rizzo trolls Astros, Hendricks on outing, more | |
---
CUBS NEWS AND NOTES
Next Game: Today: 2:10 PM: Cubs at Rockies from Talking Stick. LHP Jose Quintana will make his spring debut.
Opening Day: 23 Days- Thursday, March 26, 2020: Cubs vs. Brewers (Miller Park).
Recap: Angels @ Cubs: Yesterday, the Cubs split the squad, hosting the Angels in the afternoon, with the remainder of the team traveling to Walking Stick to face the Oakland A's last night. The afternoon game was nationally televised on ESPN, with the network mic'ing up Kris Bryant and Anthony Rizzo for some interesting and hysterical commentary.
Rizz and KB are naturals on the mic. pic.twitter.com/PXzKcimS6W

— Chicago Cubs (@Cubs) March 3, 2020
As I prepared for the game, I couldn't help but wonder how much beating Maddon, and the Angels would somehow almost validate and justify the decision to move on with David Ross at the helm. Silly, I know, as the game counts for nothing, but even in a spring training format, it still seemed to make sense.
Split-squad action today for the #Cubs. pic.twitter.com/53pk4sOWXj

— Marquee Sports Network (@WatchMarquee) March 2, 2020
The Cubs looked good, getting homers from Ian Happ and Zach Davis, with plenty of offense in between. The team would score a total of nine runs, ousting the Angels by a final of 9-4.
A #Cubs W at @SloanParkMesa! pic.twitter.com/WTXfpdEyY4

— Chicago Cubs (@Cubs) March 2, 2020
As far as the pitching was concerned, Kyle Hendricks was brilliant, working three innings of perfect ball. His breaking pitches had great movement, and his finesse is still alive and well.
We got 3 innings of Kyle Hendricks doing Kyle Hendricks things today and it was awesome. pic.twitter.com/pEd2C6WCq8

— Cubs Talk (@NBCSCubs) March 3, 2020
Kyle Hendricks on his efficient start pic.twitter.com/AnwkaYoJ4W

— Mark Gonzales (@MDGonzales) March 2, 2020
Here is my full recap from the early game.
Recap: Cubs @ A's:
Cubs Starting Lineup: Daniel Descalso (2B), Albert Almora Jr. (CF), Jason Heyward (RF), David Bote (3B), Josh Phegley (C), Robel Garcia (DH), Hernan Perez (SS), Corban Joseph (1B), Ian Miller (LF).
The first six innings of this one consisted of a pitching battle. The Cubs threatened to score a couple of times but fell short. Alec Mills was excellent, lasting three hitless innings while allowing only one walk in the process. Mills would also fan a total of three.
Ryan Tepera handled the fourth inning seamlessly, Casey Sadler, walked one in the fifth but fanned the next three.
Cubs Substitutions Andy Weber (2B), Connor Myers (CF), Donny Dewees (RF), Christian Donahue (3B), Jhonny Pereda (C), Christopher Morel (DH),
Jared Young (1B), Charcer Burks (LF).
James Norwood would give up the no-hitter with a leadoff triple to start the sixth; the first run of the game would score when the next batter hit a sac-fly. A throwing error by Jared Young on an attempted 3-1 putout would net the A's a second run. A's lead 2-0 after six.
Jason Adam pitched the seventh for Chicago, striking out the side, but the Cubs still trailed by two.
After the Cubs went down in order in the eighth, Justin Steele took the mound. Steel would struggle, issuing two walks, then beaning a guy. Hits, errors, wild pitches, and before it was over for Steele, Oakland led 5-0 and had runners on first and second. RHP Bryan Brickhouse (not aware of any relation to Jack) came in and fanned one to end the inning.
The Cubs' finally managed to do something in the ninth. Jared Young hit a one-out single, then Charcer Burks got plunked (the third Cub of the game to do so). Weber singled to the right, scoring Young. Myers grounded into a force play, but Burks scored. Dewees grounded out to end it.
Final score: Cubs-2 – A's-5.
Cubs' Offense: 7 for 32 (.219); 2 for 8 (.250) with RISP.
Coming to terms: Yesterday, the Cubs agreed to terms with the 19 players who had begun the spring season without deals in place. Terms weren't immediately disclosed, but began to trickle in. Ian Happ will earn $624,000, Victor Caratini $592,000.
Cubs sign all remaining 19 previously unsigned players on 40-man roster

— Mark Gonzales (@MDGonzales) March 2, 2020
Rizzo trolling: You almost knew it would happen. Rizzo set himself up perfectly to troll the Astros on national TV.
"I'm doing some math in my head about where he is going to throw. ... Someone bang for me."

—@ARizzo44 went there pic.twitter.com/m4GOqb8NxL

— ESPN (@espn) March 2, 2020
Cubs' Birthdays: Celebrating yesterday, were ex-Cubs Leo Gómez (54), Pete Broberg (70), and posthumously, Mort Cooper (107), Woody English (114), Arthur "Butch" Weis (119), George Stueland (121), Floyd "Rip" Wheeler (122), William Fischer (129), and Charlie Bastian (162).
Baseball Quotes: "Every day is a new opportunity. You can build on yesterday's success or put its failures behind and start over again. That's the way life is, with a new game every day, and that's the way baseball is." - Bullet Bob Feller
If you thought Mike Trout could hit a baseball…
Trout or Cruz? pic.twitter.com/NmdAcKY7Oo

— Brandon Mills (@brandon96732883) March 2, 2020

Tags: Chicago Sports Baseball
,
Jose Quintana
,
Kris Bryant
,
Anthony Rizzo
,
David Ross
,
Ian Happ
,
Zach Davis
,
Kyle Hendricks
,
Daniel Descalso
,
Albert Almora
,
Jason Heyward
,
David Bote
,
Robel Garcia
,
Hernan Perez
,
Corban Joseph
,
Ian Miller
,
Alec Mills
,
Casey Sadler
,
Andy Weber
,
Connor Myers
,
Christian Donahue
,
Jhonny Pereda
,
Christopher Morel
,
Jared Young
,
Charcer Burks
,
James Norwood
,
Jason Adam
,
Justin Steele
,
Victor Caratini