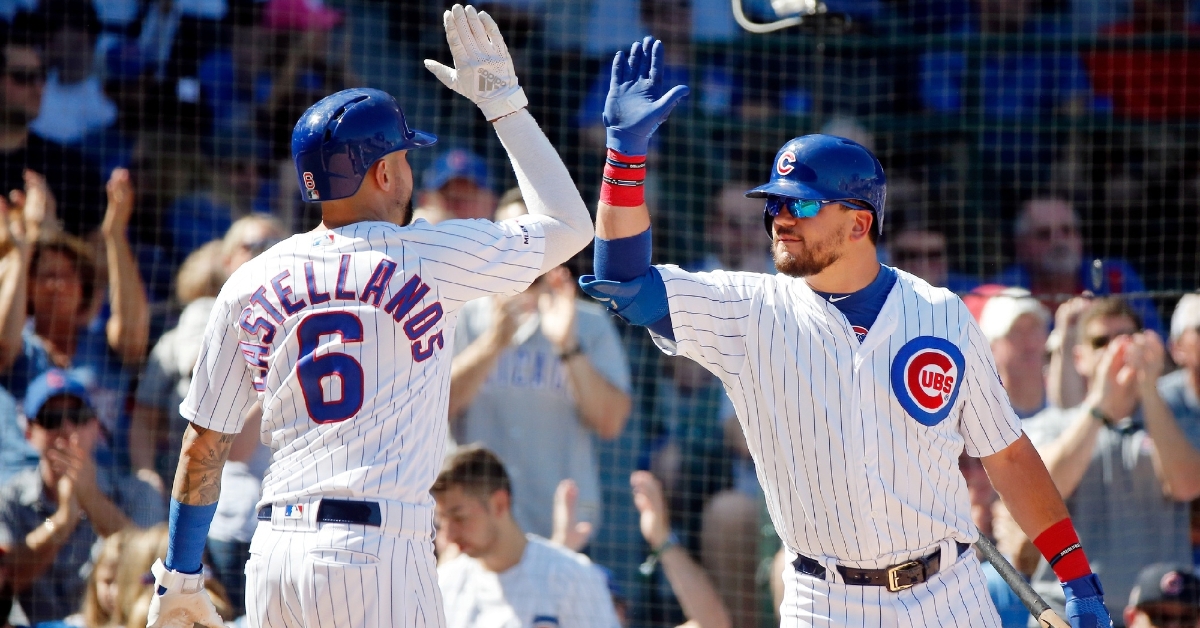 | | |
| --- | --- |
| Cubs News and Notes: Fly the W, Wild Card Standings, Manager talk, Nico Hoerner, more | |
---
| | | |
| --- | --- | --- |
| Sunday, September 15, 2019, 8:32 AM | | |
Next Game: Sunday: LHP Jose Quintana (13-8, 4.00 ERA) vs RHP Trevor Williams (7-6, 5.21 ERA). Game information: 1:20 PM CDT; Televised on WGN and SAP WGN.
Saturday's Game Recap:
The Cubs came off a monstrous 17-8 win in Friday, but was that a fluke, or could they show the same kind of authoritativeness yesterday?
The Professor took the hill for Chicago, while right-hander, James Marvel (one of the Pirates' newbies) got the bump for Pittsburgh. After a scoreless full-first inning, things got ugly… fast. Unlike yesterday's game that saw the Cubs Chasing down a four-run, first-inning lead by the Bucs, Chicago drew first blood yesterday, and they struck hard.
In the bottom of the second, the Cubs would get things moving, starting with Ben Zobrist's single to the left. Jason Heyward would ground to second, but the Bucs only managed to get the force on Zo. Nico Hoerner's single to the right moved J-Hey to third, then Kyle Hendricks' bunt moved Hoerner to second. After Anthony Rizzo got plunked in the foot, Nicholas Castellanos would smack his 51st double of the year into left, scoring all three baserunners. Cubs up 3-zip.
Nicholas Castellanos leads @MLB with 51 doubles this season!#EverybodyIn pic.twitter.com/rbjQqYQifm

— Chicago Cubs (@Cubs) September 14, 2019
Make it 4-0 on Kris Bryant's bloop single, which scored Castellanos.
Hendricks would sail through the third, then get a little more run support from his offense in the bottom of the frame, when Ben Zobrist popped his first homer of the year. 5-, Cubs.
First home run of the season for @benzobrist18! #EverybodyIn pic.twitter.com/LMjq2g3LSa

— Chicago Cubs (@Cubs) September 14, 2019
The Bucs would finally get on the board in fourth, courtesy of a couple of singles and a sac-fly, but they'd only score once. Cubs lead 5-1.
With two away, the Cubs would build their lead in the fourth. Nicholas Castellanos would smoke another double (#52) to the left, followed by KB's two-run shot to the left. 7-1 Cubs.
The #Cubs have tied the franchise record with 235 home runs this season! #EverybodyIn pic.twitter.com/uyDhOp75M6

— Chicago Cubs (@Cubs) September 14, 2019
With one away in the fifth, Zo would draw a walk, followed by J-Hey's infield single. Nico Hoerner did it again, singling to center to load the bases. Rizz would single to the right, scoring Zo and J-Hey. Clay Holmes would next bean Castellanos and Bryant (back-to-back) to force in a run. Cubs lead 10-1 (in case you hadn't noticed, the rout is on).
Add another trio of run for Chicago in the sixth. With two gone, Bote got plunked in the shoulder by Holmes, and he was not the happy camper. You could see Bote screaming at Holmes, yelling, "That's TWICE." Holmes is the guy who beaned Bote in the head on July 4. Jason Heyward would walk, and then Nico Hoerner belted his second homer in as many days, putting the Cubs up 13-1 after seven.
Drilled.#EverybodyIn pic.twitter.com/juK6P8dRLN

— Chicago Cubs (@Cubs) September 14, 2019
Oh, how about one more… Victor Caratini goes yard in the seventh to make it 14-1, which is how it would end.
.@VictorCaratini pinch-hitting this season:

8-for-18 (.444), 2 HR, 7 RBI#EverybodyIn pic.twitter.com/Frz1xWdsoh

— Chicago Cubs (@Cubs) September 14, 2019
Good outing for the Professor today, who urges you to sing the song and Fly the W. Cubs attempt the sweep tomorrow afternoon.
Kyle Hendricks owns the best home ERA in baseball at 1.75. #EverybodyIn pic.twitter.com/0YSwuaPtM0

— Chicago Cubs (@Cubs) September 14, 2019
#Cubs set franchise HR mark in blowout of Pirates.

Recap: https://t.co/FLQ3KbZg3m #EverybodyIn pic.twitter.com/WN9Bvf2gmp

— Chicago Cubs (@Cubs) September 14, 2019
CUBS NEWS AND NOTES
Cubs/Reds Probable Pitchers: Monday: LHP Cole Hamels (7-7, ERA) vs RHP Sonny Gray (10-7, ERA). Game information: 7:05 PM CDT; Televised on NBC Sports Chicago. Tuesday: RHP Yu Darvish (6-6, 3.97 ERA) vs RHP Tyler Mahle (2-11, 5.11 ERA). Game information: 7:05 PM CDT; Televised on ABC-7 and ESPN. Wednesday: LHP Jon Lester (13-10, 4.59 ERA) vs RHP Luis Castillo (15-6, 3.22 ERA). Game information: 7:05 PM CDT; Televised on WGN and SAP WGN.
NL Wild Card race: The Cubs caught a break in the wildcard race on Friday, as every other team lost (except the Phillies, who were off). The Cardinals lost to Milwaukee, so the Cubs not only gained a game in the division, but they also closed the wildcard gap between themselves and the Nats, as Washington lost.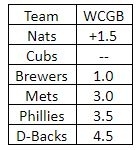 Fangraphs: The latest Fangraphs' numbers are out, and the Cubs' odds of securing a playoff chance (including a wildcard berth) are still in the 64% range. Not great, but not bad when you consider that their closest competition (Milwaukee) sits at 24.6%
NL playoff chances, per Fangraphs:
Nationals 96.7%
Cardinals 95.3%
Cubs 64.6%


Brewers 24.6%
Mets 14.2%
Phillies 3.8%
D-Backs 0.8%

— Buster Olney (@Buster_ESPN) September 14, 2019
Hoerner on his first Wrigley game: "It was amazing. It felt like I had always hoped it would. It definitely lived up to the hype. I had hyped it up to my family a lot just from seeing one game here last year - I said it was unlike anything I had ever seen before and they agreed."
ESPN 1000 poll: I love some of the creativity in ESPN 1000's Twitter polls, and yesterday, they posted a doozy. What nickname would you give Theo Epstein?
Cubs Fans: The best nickname for Theo would be:

— ESPN 1000 (@ESPN1000) September 14, 2019
Patrick Mooney: "Joe Maddon isn't the problem, but that doesn't mean he'll be part of the Cubs' solution." In Mooney's article in The Athletic, (subscription only), he quotes Joe Maddon as saying, "I feel so good about the body of work that we've done here that I can't lament anything. There's nothing for me to worry about."
Nico's mom: Nico Hoerner's mom was in the stands at Wrigley, and she gave Kelly Crull an interview. She discussed the "surreal" feeling of having her son in the majors and how it's turned their lives into "chaos."
"It's been amazing. Every other aspect of our lives is in complete chaos."@Kelly_Crull caught up with Keila Diehl -- Nico Hoerner's mom -- to see what it's been like for the family since the Cubs called up Hoerner from Double-A on Monday. pic.twitter.com/pMppN8PdqB

— Cubs Talk (@NBCSCubs) September 14, 2019
More manager talk: David Ross, Mark Loretta, or Mark DeRosa.
Cubs lose a vital organ: Relax, I'm not talking about a body part. Cubs' organist Gary Pressy has announced that he'll be retiring after this year. On Saturday, May 25, 2019, Pressy reached "iron-man" status, tying Cal Ripken with his 2,633-consecutive "played" game; never having missed a day in 33 years. Thanks for thee-plus decades, Gary. Enjoy your retirement!
Congrats and best wishes to #Cubs organist @GaryPressy who will retire at the of this season. More later in @dailyherald

— Bruce Miles (@BruceMiles2112) September 14, 2019
Cubs' history: It's hard to believe that it's been 11 years since Carlos Zambrano no-hit the Astros. That would mark the first time in 36 years that a Cubs' pitcher tosses a no-no.
#WindyCityLegends: #OTD in 2008, Big Z no-hit the Astros in Miller Park.

It was the first #Cubs no-hitter since 1972. (@Wintrust) pic.twitter.com/f87pSlePxC

— Cubs Talk (@NBCSCubs) September 14, 2019
Baseball Quotes:
You better cut the pizza in four pieces because I'm not hungry enough to eat six. -Yogi Berra pic.twitter.com/Ct95frf3dv

— Baseball Quotes (@BaseballQuotes1) September 13, 2019
Cubs Birthdays: Celebrating yesterday, were ex-Cubs Dave Hillman (92) and posthumously, Jim Fanning (92), John Bottarini (111), Artemus "Nick" Allen (131), and Emil "Reggie" Richter (131).
THIS WEEK'S NL CENTRAL SCHEDULE:
(Wins in green, losses in red)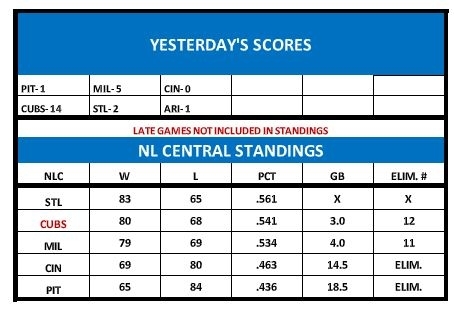 Tags: Chicago Sports Baseball
,
Jose Quintana
,
Ben Zobrist
,
Jason Heyward
,
Kyle Hendricks
,
Anthony Rizzo
,
,
Victor Caratini
,
Cole Hamels
,
Yu Darvish
,
,
David Ross
,
Joe Maddon
,
Theo Epstein
,
Mark Loretta