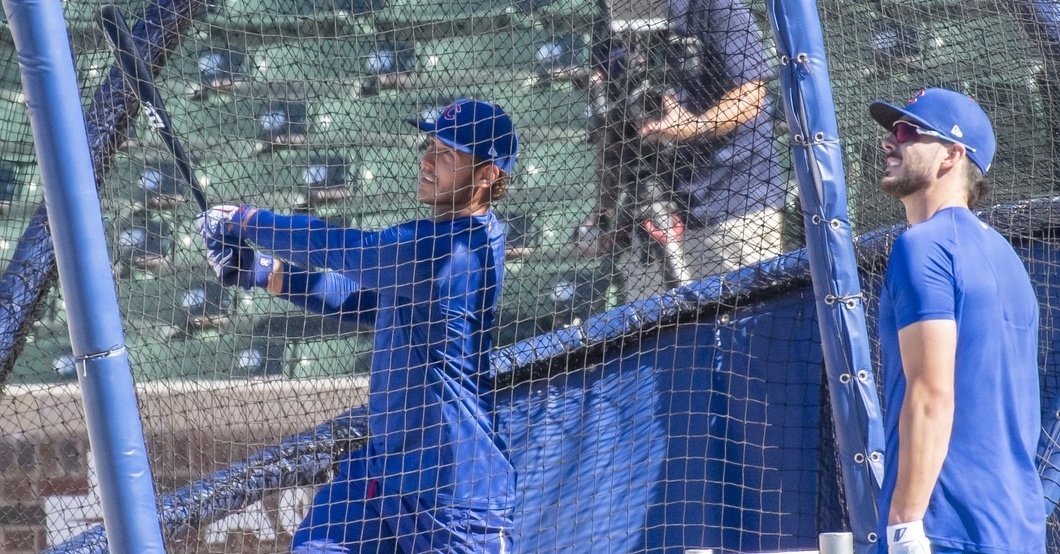 | | |
| --- | --- |
| Cubs News and Notes: Happy 4th, Cubs' Camp, 'Little' Tony, K-Boom, COVID-19 testing, more | |
---
| | | |
| --- | --- | --- |
| Saturday, July 4, 2020, 9:10 AM | | |
Happy 4th: Happy 4th of July from all of us at CubsHQ. If you're going to go out and watch the fireworks or celebrate tonight, please do so safely and responsibly! It's no secret that there's been a spike in COVID-19 cases, but for some reason, many remain complacent.
Don't forget to watch out for your pets today – especially if you have pets that you've rescued from abusive situations. Many have issues with the noise from the fireworks, and they may become terrorized by it.
OK, that's it for my PSA. Now, let's talk Cubs baseball.
Let's just start with this… Enough said.
Hearing David Ross talk, the Cubs might be ready to play games as quickly as anyone in baseball.https://t.co/vqNbjKApvu

— NBC Sports Chicago (@NBCSChicago) July 4, 2020
Scenes from Camp: There were scenes of life at Wrigley yesterday, though due to the pandemic and the social distancing rules for the media, don't expect to see a lot of closeup video or pictures during team workouts.
Kris Bryant was in the cage, hitting dingers into the stands as he prepares to embark on his role as the Cubs' leadoff man. I'm still not convinced that he's the right guy for that job, but David Ross recently commented that he felt comfortable with Bryzzo being his 1-2 punch in the batting order.
Bryant sends a couple rattling into the bleacher seats... pic.twitter.com/6VHqpWlOqM

— Jordan Bastian (@MLBastian) July 3, 2020
Speaking of Rizz, if you though Kyle Schwarber slimmed down for last season, you should see what Anthony Rizzo accomplished while the team was on their COVID sabbatical. Holy mackerel, did he slim down! Rizzo says that he dropped a total of about 25 pounds during the team's hiatus.
Bryant, Rizzo and Javy getting ready for their portion of today's workout. pic.twitter.com/T91zGIz7Ps

— Jordan Bastian (@MLBastian) July 3, 2020
Much like with what I saw from Schwarbs last year after he slimmed down over the winter, I'd expect Rizz to have a much quicker swing this season, as well. This could potentially allow him to deliver more power while pulling the ball even further. We all know what happens to line drives down the right-field line at Wrigley… right? If not, they usually wind up in the well and go for triples. That drop in weight will also undoubtedly help Rizz to wheel around the bases, so look for more doubles – and maybe even a triple – from the (former) big guy.
A couple BP homers from Rizzo... pic.twitter.com/6oT1bk9wlV

— Jordan Bastian (@MLBastian) July 3, 2020
Ian Happ commented, "Rizzo does look phenomenal. He does look great in all clothing. We're locker mates. We're next to each other. So, I was watching him try on smaller clothes today because everything that he had was a little large. "Very nice to see him downsizing. He looks absolutely wonderful. His pop right now, I don't want to oversell it, but his pop right now is — he's strong; he's very strong."
Fielding practice: To no one's surprise, when the Northside 9 took the field for practice, KB and Javy Baez made up the left side.
The left side of the Cubs' infield... pic.twitter.com/nj1zbUts3t

— Jordan Bastian (@MLBastian) July 3, 2020
That part of the Cubs defense is mechanically sound, and damn near set in stone; it's the right side of the infield that contains the big question mark.
The Cubs don't have a platoon for second basemen but have a battalion. Vying for the spot is a newcomer (and veteran) Jason Kipnis, who will compete against the young gun – Nico Hoerner, as well as David Bote and Daniel Descalso. The four made up one group for batting practice.
Kipnis taking BP. In group with Descalso, Bote and Hoerner right now at Wrigley. pic.twitter.com/fsvRa11FCr

— Jordan Bastian (@MLBastian) July 3, 2020
No holiday for the Cubs today, as they get back to work this morning.
Ross said first intrasquad game is tomorrow.

— Tim Stebbins (@tim_stebbins) July 3, 2020
The Cubs plan to have a "controlled intersquad" scrimmage tomorrow.

David

Ross: "Our pitchers are ready to throw live. They're up to three innings. ... There's no substitute for live looks."

— Maddie Lee (@maddie_m_lee) July 3, 2020
Rizzo displeased: When asked about the negotiations to get baseball up and going again, Rizz expressed disgust with those who leaked info.
"It's just flat-out embarrassing for me to be searching through Twitter and seeing the updates because that's how fast they got out there. ... I would hope to see in the future that we can keep things internal."
Rizzo (a cancer survivor) said he spoke with his oncologist early on and he's "technically cleared" and did not consider opting out of participating. Being cautious like everyone.

— Jordan Bastian (@MLBastian) July 3, 2020
COVID Testing: MLB has concluded its intake round of COVID-19 testing. While no names have been officially released, the Indians' Delino DeShields was among the 38 positive tests. That number of positives equates to 1.2% of the 3,185 samples tested. Of the 38 who have contracted the virus, 31 are players, with the remaining seven being staff members.
David Ross indicated to reporters on Friday that no Cubs players have tested positive for COVID-19:https://t.co/QtnNZ3jpgh

— Cubs Talk (@NBCSCubs) July 3, 2020
Cubs' Birthdays: Casey Coleman (33), Zach Putnam (33), Tommy Hunter (34), John Koronka (40), Moises Alou (54), and posthumously, Matt Keough (65) and Cliff Curtis (139).
Baseball Quotes: "I wouldn't put the carriage before the horse. I think we've seen from the owners they're not afraid to put anyone at risk, especially if it makes them money." – former Cubs' pitcher, Jeff Samardzija, when asked about playing in fan-less stadiums.
MLB NEWS AND NOTES
All-Star Game: This should come as no surprise, but MLB has elected to cancel the 2020 All-Star Game, which was scheduled to be played at Dodger Stadium.
Rob Manfred issued the following statement: "Once it became clear we were unable to hold this year's All-Star festivities, we wanted to award the Dodgers with the next available All-Star Game, which is 2022," Commissioner Rob Manfred said. "I want to thank the Dodgers organization and the city of Los Angeles for being collaborative partners in the early stages of All-Star preparation and for being patient and understanding in navigating the uncertainty created by the pandemic. The 2022 All-Star celebration promises to be a memorable one with events throughout the city and at picturesque Dodger Stadium."
Condolences: CubsHQ would like to extend our condolences to the family, friends, and former teammates of the ex-Phillies pitcher, Tyson Brummett (age 35), who died in a plane crash yesterday morning.
Brummett was piloting a Cessna 172, which took off from a local airport in Utah when it crashed in American Fork Canyon, according to Utah County Sheriff's officials. Brummett, his friend Alex Ruegner, 35, and Ruegner's uncle and aunt, Douglas Blackhurst, 62 and Elaine Blackhurst, 60, died in the crash.
Brummett only appeared in one Major League game for the Phils during the 2012 season.
CubsHQ once again wants to wish you a happy and safe July 4th! Check out the following fun video shared by the Cubs:
Wishing a safe and happy Fourth of July!@budweiserusa pic.twitter.com/vPGoajJkve

— Chicago Cubs (@Cubs) July 4, 2020