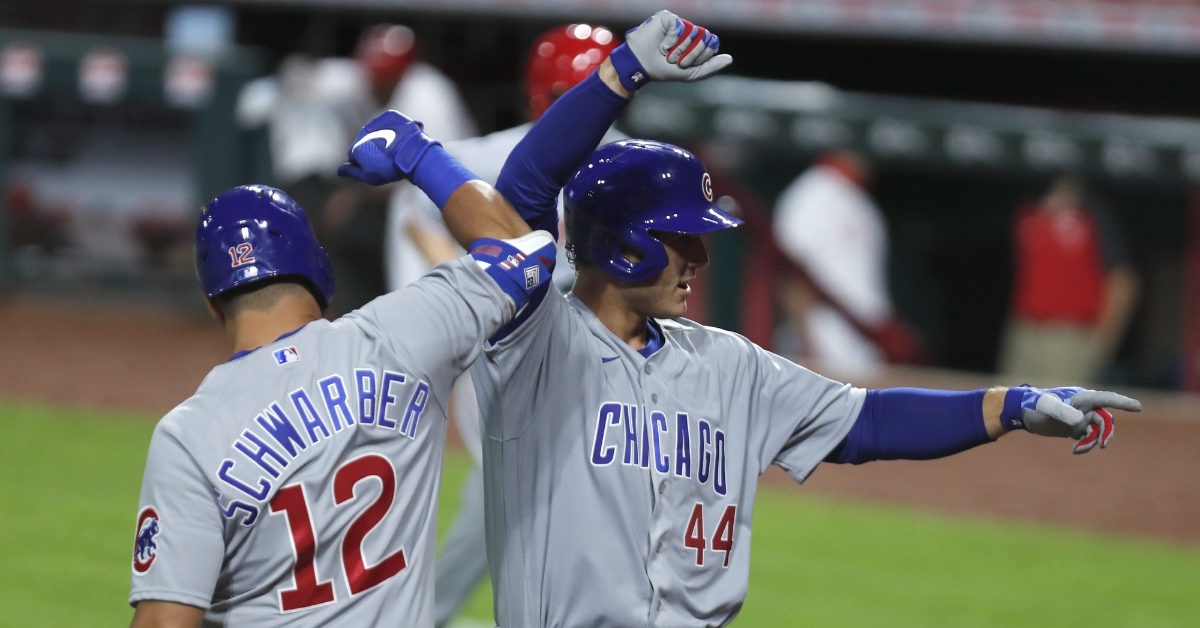 | | |
| --- | --- |
| Cubs News and Notes: Schwarber keeping door open, 1945 Cubs, Ross on Lester, more | |
---
| | | |
| --- | --- | --- |
| Friday, December 18, 2020, 9:46 AM | | |
Hope everyone out there is having a safe and happy holiday season!
Check out the latest news and notes from everything Chicago Cubs related.
Kyle Schwarber open on return to Cubs: The former Cubs slugger told the Athletic recently that he is keeping his options open on his new team including the Cubs.
"It's the team that drafted me, and I grew up with," he said. "I won a World Series. I love those guys. It's Chicago. You love that. You just want to keep all doors open."
David Ross said that the team is certainly open to the return of Schwarber if all the pieces fall right.
For me, I talked to him after it happened," he said. "Some of the toughest roads I've been on, it let me to a better place whether that is with us or somebody else. Sometimes that smack in the face is a real game-changer for you a player. I can speak from experience as it happened to me a lot. I ended up in some really good positions."
In 2020, Schwarber hit only .188 with 11 homers and 24 RBI in 224 plate appearances.
Kyle Schwarber on potentially returning to the #Cubs: "It's the team that drafted me and I grew up with. I won a World Series. I love those guys. It's Chicago. You love that. You just want to keep all doors open." per, @PJ_Mooney. pic.twitter.com/QEvy7d9RM7

— Cubs Zone ™? (@CubsZone) December 17, 2020
Rare photo of 1945 Cubs: Pretty cool team photo. According to Wikipedia, the 1945 Chicago Cubs season was the 74th season of the Chicago Cubs franchise, the 70th in the National League, and the 30th at Wrigley Field. The Cubs won the National League pennant with a record of 98–56, 3 games ahead of the second-place St. ... It would take 71 years before the Cubs made it to another World Series.
1945 National League Champion Chicago Cubs pic.twitter.com/EMJ8qRDMoX

— CubWin (@CubWin) December 18, 2020
Jon Lester update: Cubs manager David Ross is still hopeful that the Cubs will re-sign 'Big Jon' to a new deal this offseason.
"I'm optimistic," Ross said to the media Wednesday. "I hold out hope. I'm a glass-half-full kind of guy."
Lester was 3-3 with a 5.16 ERA and 1.33 WHIP in 12 starts last season.
Ian Happ mic'd up during the season: Check out the following video as Happ about how much he loves Chicago and day games.
"Day games are awesome," he said. "Living here is awesome. The best part is so many day games so you can go out to eat and be a normal person."
Happ has really embraced a leadership role with the Cubs and is one of their bright spots for years to come.
It's just different here.

Watch @ihapp_1 mic'd up on Sunday Night Baseball: https://t.co/eSGremLKh6 pic.twitter.com/uunvevaOG8

— Chicago Cubs (@Cubs) December 17, 2020
Cubs get a new reliever for the bullpen: Interesting pickup for the Cubs as he might be a solid member of the bullpen in 2021.
Jonathan Holder was 3-0 with a 4.98 ERA (12 ER/21.2 IP) in 18 relief appearances for the Yankees last season, walking 11, striking out 14, and holding the opponent scoreless in 12 of his outings.
The dude has some serious spin rate. If he can harness that, he might be a diamond in the rough for the Cubs.
The #Cubs and RHP Jonathan Holder have agreed to terms on a 2021 non-guaranteed contract. pic.twitter.com/ss1Ff00tVb

— Chicago Cubs (@Cubs) December 17, 2020
Off the Mound with Ryan Dempster: TV programming alerts as Dempster will have new President of Operations Jed Hoyer on Friday on the Marquee Sports Network.
According to the press release, here are the highlights of the upcoming show:
On whether his new role of president of baseball operations feels any different:
"On a day-to-day basis it feels the same because I'm working with the same people on the same goals. I think maybe when I switch offices and finally get Theo's guitars and stuff out of there it'll feel a little bit more like a promotion."
On his search for a new Cubs GM:
"It's really hard to do a search during COVID. We talk on Zoom or on Skype or whatever it might be and we don't get a chance to sit down face to face, so I want to figure out the right time to do it. I am excited at some point to run that search and to find someone to complement me and complement the rest of the really good people we have in the office."
On taking over for Theo Epstein:
"We've been together for so long. I'll miss him but at the same time I felt like I was ready for this job 10 years ago in San Diego. I came to Chicago with Theo because we always talked about breaking a second curse and joining forces and doing that together, and I stayed here because I loved Chicago. I love the city, I love this organization, and I'm excited for Theo's next chapter and I'm excited to slide into that role and to keep things going and to continue to do great things here on the North Side."
On David Ross' role as Cubs manager:
"He's been working all winter with the R&D team to continue to further his growth, and I think that's what ultimately is gonna make him one of the best managers in the game is that he has that desire to keep getting better. He doesn't think he knows it all and he's not ashamed to admit that he doesn't know it all. It is such an appealing part of this job knowing that we have an excellent manager now and a manager that I think will just continue to grow and get better and better. It's a hard thing to find and we have one."
On Cubs players' on-field performance during the 2020 shortened season:
"I thought last year was a really hard mental year for that reason, and I also think it was just a really short sample and so I think we have to do a good job of remembering that what we just saw. It was real but it also was very short, and we can't talk about small samples and talk about not reading too much into small samples on one hand and then the other hand overvalue what we just saw in 2020. I think that this is something we have to remember every single day, it was a very unusual season."
Friday at 9pm on ?@WatchMarquee? ! Happy to have President of Baseball Ops for the ?@Cubs? Jed Hoyer stops by ?@OffTheMound? ! Tune in to find out what special assistant gets to take over his old office! Presented by ?@Sloan_Valve? !! pic.twitter.com/46BiiT4y4l

— RyanDempster (@Dempster46) December 17, 2020
It's his ship... Join us for ?@OffTheMound? Friday night at 9pm CST as President of Baseball Ops Jed Hoyer stops by! His vision for the present and the future of the @cubs! He's the Captain now! On ?@WatchMarquee? presented by our good friends ?@Sloan_Valve? pic.twitter.com/3NYkKjp382

— RyanDempster (@Dempster46) December 17, 2020
Old school video featuring Fergie Jenkins and Ernie Banks: Which has more memorable to you? I think I will have to go with Mr. Cub myself, no disrespect to Fergie.
A Hall of Fame showdown. pic.twitter.com/Ak4zaDkLgd

— Chicago Cubs (@Cubs) December 16, 2020
Another video of Fergie's 3,000 strikeout:
Chicago #Cubs pitcher Fergie Jenkins collects his 3,000th career strikeout vs. San Diego #Padres batter Garry Templeton. Harry Caray with the classic call! (1982) Happy 78th Birthday Fergie! #MLB #Baseball #History pic.twitter.com/cpWWnAYaPC

— Baseball by BSmile (@BSmile) December 13, 2020
Speaking of Banks -- Check out this rare pic of him, George Altman, and Buck O'Neil: This is a really old school photo posted on social media recently.
Chicago #Cubs George Altman and Ernie Banks bookend Negro Leagues legend Buck O'Neil pic.twitter.com/A90glyMGSM

— CirclinTheBases (@CirclinTheBases) December 16, 2020
Banks made his baseball debut with the Kansas City Monarchs in 1950.
Ed Howard has high hopes with the Cubs: The Cubs youngster is ready to shine down the line with the Cubs as he did for Chicago in the Little League World Series.
"I want to bring a championship to this city," he said recently. "We had a parade around the city after the Little League World Series, so I want to do it again with the Chicago Cubs."
Ed Howard is currently ranked #4 in the top 10 prospects for the Chicago Cubs, per Baseball America. pic.twitter.com/Z2un6NbwGA

— Cubs Zone ™? (@CubsZone) December 15, 2020
ICYMI: The Cleveland Indians are changing their name away from the Indians: Pretty huge news that has been rumored that was going to happen for several years.
"Since July, we have conducted an extensive process to learn how our team name affected different constituencies and whether it aligned with our organizational values," Indians said in a release. "As a result of that process, we have decided to move forward with changing the current team name and determining a new, non-Native American based name for the franchise."
Breaking: The Cleveland Indians will be dropping their nickname, sources told ESPN's Jeff Passan, confirming a report by The New York Times. pic.twitter.com/PafAhvgDN7

— SportsCenter (@SportsCenter) December 14, 2020
Jason Heyward, Nico Hoerner, Ed Howard, and other making a difference at a Player Alliance event: Great job guys! What to make a difference in the community.
Four stops. Two days. One city.


Thank you to @Player_Alliance for making a positive impact throughout Chicago this weekend! #PlayersPullUp pic.twitter.com/SxsYVT6rGU

— Chicago Cubs (@Cubs) December 13, 2020