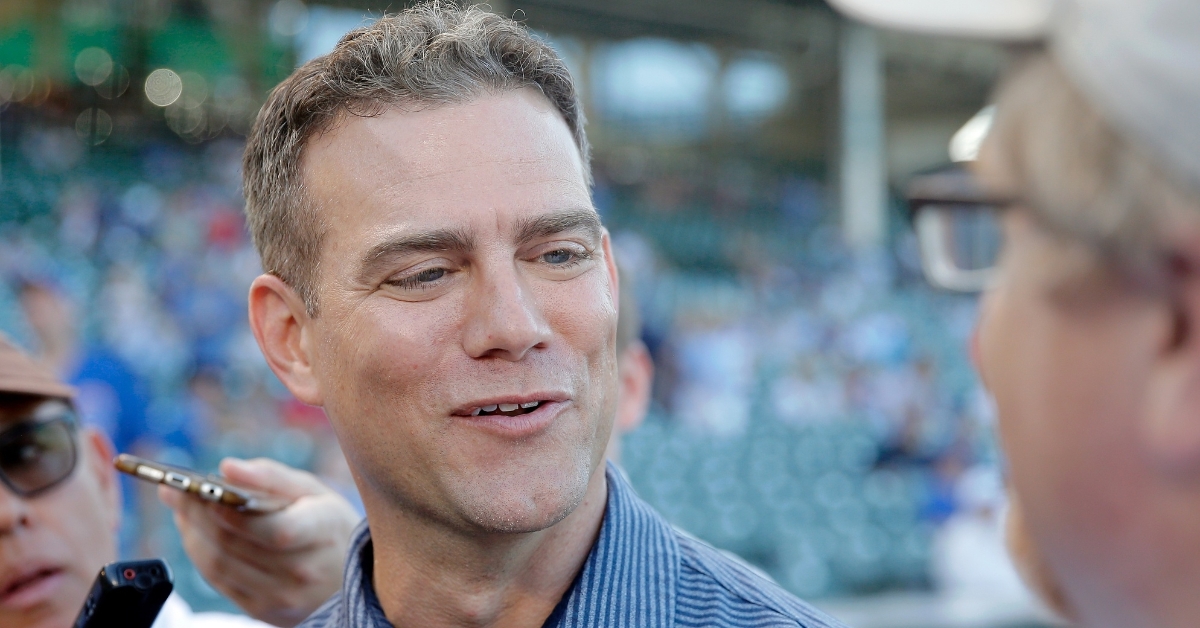 | | |
| --- | --- |
| Cubs News and Notes: Tough decisions for Theo, Cubs' trade rumors, Zo update, Hot Stove | |
---
| | | |
| --- | --- | --- |
| Wednesday, November 13, 2019, 8:10 AM | | |
CUBS NEWS AND NOTES
Hoyer on trade rumors: "people are going to put stuff out there about our guys. There's definitely some click-bait opportunity there. A lot of our guys have been All-Stars. And you can put a story out pretty easily that gets clicks."
Well, that settles it. Thanks, Jed.
Zo unsure: Despite working out each day to stay in shape, Ben Zobrist says that he remains uncertain as to whether or not he'll be returning in 2020. I had him down in my book as retiring as far back as last May, but if he goes another round, I still think he'll wind up in Anaheim.
Ben Zobrist is working out every day but hasn't decided whether he'll try to play in 2020. A's we saw last year, for him family comes first.

— Jon Heyman (@JonHeyman) November 12, 2019
Sign 'em or set 'em free: While some caught on long ago, others still haven't conceived that the Cubs are entering a very slippery slope concerning their core. The truth is, the Cubs won't win another World Series title – or maybe even another division title – with the team as it currently stands.
Who could possibly want to envision the remainder of the 2016 team being disbanded? Nobody, but the truth is, it's going to happen eventually. This team has underperformed for two years, and with free agency beginning to loom, the time may have come to start dealing. The Cubs have too many holes to fill, and being the highest spending team in the NL last year got everybody seats at home for the NL Wildcard Game; something has to change.
"Epstein has a responsibility to maximize his assets and to try to extend the Cubs window of contention as long as he can. The only way to do that is to either lock up his stars now or move them for as much as he can get to replenish the talent level in the organization. Despite many clamoring for the Cubs to throw more money at their holes and trying to sign the best players on the free-agent market, I fully expect Epstein to pull back from that path, which is often fraught with peril. – David Kaplan
Morrisey's dream: Seldom do I agree with anything that Rick Morrisey (Sun-Times) writes, and today was no exception. Morrisey stated today that it wasn't inconceivable to see either Kyle Schwarber or Kris Bryant get dealt to the south side. Pardon me while I laugh. I don't see Schwarbs going anywhere, and while I do think Kris Bryant will be dealt, I can't see him heading to the White Sox.
Ballgames and betting: Need an excuse to sneak to Vegas? Here's one: The Cubs and Reds have announced that they'll play a pair of spring training games there in March.
Cubs announce they will have 2 spring training games in Las Vegas in 2020: March 7-8 against the Reds. Both are 1:05 PT starts

— Tony Andracki (@TonyAndracki23) November 12, 2019
Losing draft picks: If (and that's a mighty big word) the Cubs were to sign a qualified free agent (Gerrit Cole, Stephen Strasburg, Zack Wheeler, Madison Bumgarner, Jake Odorizzi, Anthony Rendon, Josh Donaldson, Marcell Ozuna, Jose Abreu or Will Smith), the Cubs, Red Sox and/or Yankees would be required to forfeit their second and fifth-highest selections next summer. If it's any consolation, I don't see this happening for Chicago.
Voting on rules: This week during the meetings, the GMs will be voting on the "relief inning rule," which states that a relief pitcher pitches either 2/3 of an inning or 2/3 of an inning after entering a game.
Cubs' Birthdays Celebrating today were former Cubs Aaron Heilman (41), Sammy Sosa (51), Dave Otto (55), Jeff Reed (57), Jody Davis (63), and posthumously, Gene Lillard (116), Fred Raymer (144), and Harry DeMiller (152).
Baseball Quotes: "One of the fellows called me Cyclone, but finally shortened it to 'Cy' and it's been that ever since." -Cy Young on how he got his nickname.
And to think that they're knocking dingers for a million bucks now. Here's a look at the original Home Run Derby (Ernie banks gets shown a little love at the end).
Mickey Mantle hits his final HR to beat Willie Mays in the first episode of "Home Run Derby" (1960) Mickey won $2,000, Willie won $1,000! #MLB #History pic.twitter.com/PoB1RKZ2DN

— Baseball by BSmile (@BSmile) November 9, 2019
MLB and the Hot Stove
NL Central Hot Stove:
Brewers: Most agree; Craig Counsell is likely to be named this year's NL Manager of the year. No objections here. If Craig's efforts all year weren't enough, working around injuries, which included losing Christian Yelich down the stretch, showed his ability to adapt. Early congrats, Craig.
Cardinals: Take Adam Wainwright off of your free agent checklist, as he and the Cards have agreed to another one-year deal worth $5M with an additional $5M in incentives. Marcell Ozuna will not be accepting the qualifying offer, as there are already seven teams showing interest.
Pirates: Pittsburgh probably has more to worry about than just filling roster holes, as they still look to find a manager.
Reds: The Reds are now among those to have confirmed interest in Marcell Ozuna.
From the rest of MLB:
Padres: San Diego says that they're ready to start bundling prospects, to beef up their MLB roster. While no specific names have been mentioned, the club is willing to explore all options. I wouldn't look for the Cubs to take part in this deal, as they need MLB ready players to fill what seems like 100 different holes on both the 25 and 40-man.
Rangers: They do say everything is bigger in Texas, so I'd assume that means offseason goals as well.
"This year, we are going to look at everything. Our goal is to get better, period. There are a couple of spots more [available] than others. We have signed [top free agents] before, and at some point, I have to suspect we will again." -Rangers GM, Jon Daniels
Mets: NY says they're close to bringing back Chili Davis for another year as hitting coach.
Chili Davis and the Mets are close to working out an arrangement to bring him back as hitting coach. Alonso, McNeil, Davis and Rosario all had nice to great years under Chili. The Phillies had been reported to be seriously considering Chili.

— Jon Heyman (@JonHeyman) November 12, 2019
Orioles: The Orioles are reportedly nearing a deal which will allow RHP Aaron Brooks to sign with a KBO club.
Rockies: Colorado has signed infielder Eric Stamets to a minor league deal (invite to spring training).
White Sox: While Jose Abreu may be the only guy to accept the $17.8M qualifying offer this year, the Sox are reportedly discussing a multiyear deal with him.
Astros: Lately, Houston seems to be in just about as much trouble as the Pirates. At the end of the World Series, an executive was fired for making verbal attacks on female reporters; then, Nolan Ryan quit working for the team. Just this morning, five-year-old stories of tampering with George Springer's service time reappeared, and now the Astros allegedly stole signs during the 2017 season. An awful lot of drama in Texas these days.
The Houston Astros have been accused of stealing signs electronically during the 2017 season.

An excerpt from @TheAthleticMLB report: pic.twitter.com/ZNpLRz8Wac

— Baseball Quotes (@BaseballQuotes1) November 12, 2019