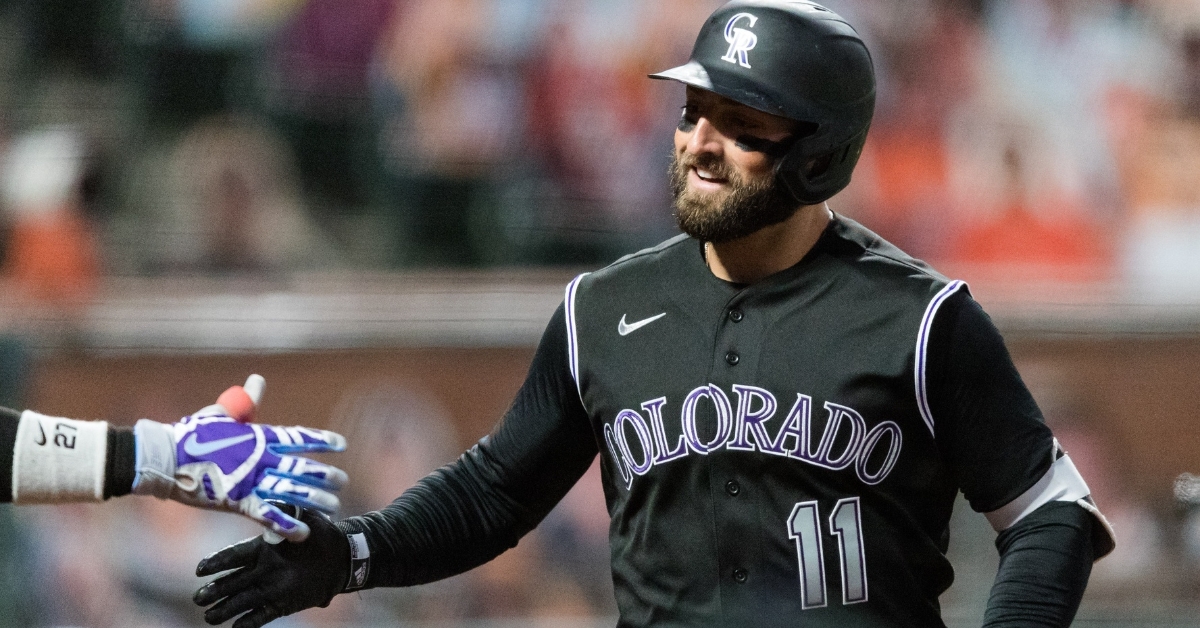 | | |
| --- | --- |
| Kevin Pillar could be viable option for Cubs | |
---
As the non-tender came and went, there were some surprises that were across the league. From Eddie Rosario to Kyle Schwarber and others, the non-tender deadline indicated just how crazy things could be this offseason.
One move that wasn't a surprise was the Cubs electing to non-tender their 2012 first-round pick Albert Almora after another down season. Along with Theo Epstein, Almora joined the Cubs in 2012 as he was the first-ever draft pick by Epstein in the Windy City. Known for his great bat to ball skills in high school, Almora was viewed as a potential five-tool player and someone the Cubs could build around for a long time.
Like it happens with many prospects, sometimes draft picks don't pan out, and Almora certainly didn't pan out the way the Cubs had hoped, especially over the past two years. Almora did show flashes of greatness at times, but that was mainly against left-handed pitchers, where he was a 355 hitter across his first three seasons. That was a big reason for the platoon role earlier in his career.
Hoping his production against right-handers would get better with increased playing time, Almora never materialized, eventually losing his starting job and being demoted this season. What Almora lacked with the bat, he made up for with the glove as he was one of the best defensive center fielders in the game. Granted, even his success in the field went away the past two seasons, but he made tons of plays that very few outfielders could make.
Unlike Schwarber, I don't see a possible way the Cubs would even entertain the idea of bringing Almora back. His development was hurt during his platoon role, and quite simply, it is far too late to fix the player he is. There are plenty of options for the Cubs, but none comes with the same defensive ability that he brought to the table. None except one who seems to be an ideal fit for Chicago next season as the team's starting center fielder or potentially fourth outfielder.
I am talking about Kevin Pillar, who has elected free agency after playing in Colorado last season. For those unfamiliar with Pillar, he began his career with the Toronto Blue Jays back in 2013 and spent his entire career in the American League East until recently. Unlike Almora, Pillar was never known as someone who could produce with the bat, but that doesn't mean he isn't a serviceable hitter.
For the most part, Pillar has been a starter and has produced a respectable level hitting .262 across his eight-year career. Take away his .206 average as a rookie, and Pillar has never hit under .250 with a career-best .288 this past season. Granted, a lot of that success was due to playing in Coors Field, but Pillar did have a good season.
Pillar didn't start to live up to his potential until 2015 when he became an everyday player. Across the next four seasons with the Blue Jays, he played in 142 games or more and compiled a respectable 267 average, including a 278 his first season as a starter. Pillar is not known for his power, hitting just 82 homers in eight seasons, but he did belt a career-high 21 homers and 88 RBI's in 2019, so some pop in that stick.
The two things I love about Pillar are his defense and just how he goes about his business on an everyday basis. Unlike most players, Pillar doesn't care about his body. What that means is he is willing to give 110% on every play and sacrifice his body like none other. That could be why he has made some of the most incredible plays over the past five seasons. His defense alone is what will get him some playing time, and his glove will undoubtedly make up for the loss of Almora.
Pillar is also what you call a gamer and someone who defines an old school player's definition. While he doesn't have one specific attribute that stands out, Pillar is one of those players who does a variety of things well, making him a solid player. Not a burner by any means, Pillar is a selective base stealer and steals upwards of 80% of the bases he attempts. Granted, he has never reached more than 15 in a season but going 15-18 is quite impressive.
He is also someone who knows exactly the type of hitter he is and will do what it takes to get better. Pillar is not one to draw a ton of walks, but he has yet to strike out more than 100 times in a season, so he does put the bat on the ball.
This is a guy that I wanted the Cubs to target a few seasons ago before him being dealt from Toronto. He fits this team perfectly, and now with two outfielders released, three if you count Steven Souza being let go on September 8th, the Cubs certainly have a few outfield spots to fill.
When you look at their prospects, Brennan Davis, Cole Roederer, Jordan Nwagu, and others are the names that stand out in terms of outfielders. The problem is that all three of them are two or three years away at this point, so the Cubs need to find short-term options. At 31 years old, Pillar should have a few years left in him, so why not go and get him to use whatever he has left.
Upgrade Your Account
Unlock premium boards and exclusive features (e.g. ad-free) by upgrading your account today.
Upgrade Now