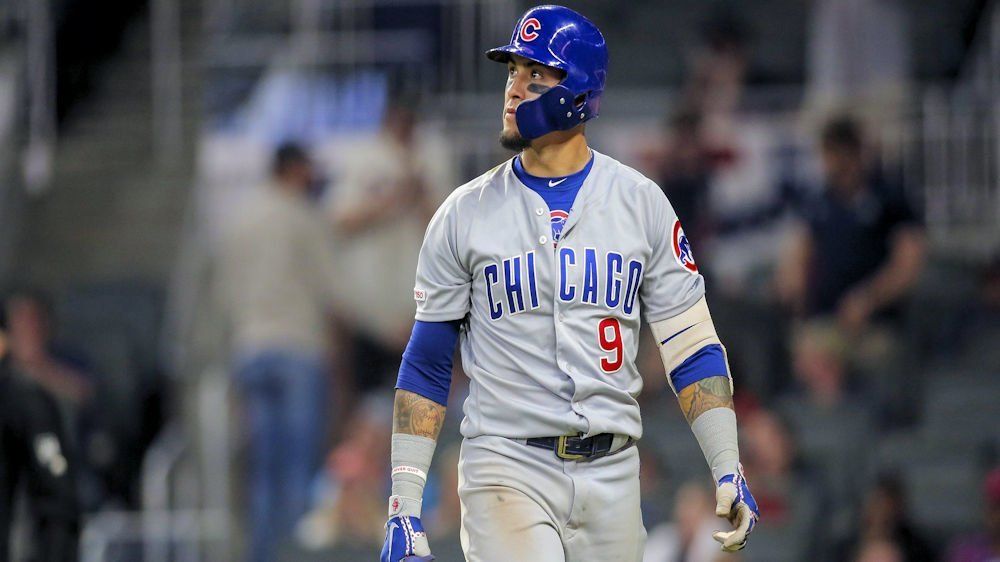 | | |
| --- | --- |
| What happened to the Cubs defense? | |
---
| | | |
| --- | --- | --- |
| Monday, October 7, 2019, 4:35 PM | | |
The Chicago Cubs had a forgettable season, to say the least. Despite both a top ten offense and pitching core, according to runs per game and team ERA, the Cubs failed to make the postseason. The only other team to come close to this feat was the Colorado Rockies, who finished with the eighth-best offense, but the second-worst pitching. So, who is to blame for the Cubs collapse in 2019? The defensive woes could be the answer to much of the team's problems.
In 2016, the Cubs had one of the best defenses in the league. Despite finishing with over 100 errors, Fangraphs still ranked the Cubs as the best team in their "Defense" stat. This stat takes into account the defensive value for each position and gives equivalent values to defensive plays according to position. In its purest form, this stat takes into account that playing shortstop is considerably harder to play than first base, and rates defensive plays and performance on that.
Since 2016, the Cubs have finished in the top five in the league in that DEF statistic every year except for 2019, where they fell to 12th. From 2016 to 2018, the Bears had DEF scores of 43.1, 23.5, and 29.4, respectively. These numbers may not hold a ton of value to everyone, but it should alarm the Cubs to see their 2019 DEF score drop to 8.9.
Cubs broadcast calls Ben Zobrist's throwing error that gets the Padres on the board pic.twitter.com/aqcm4NqrRz

— VHS (@VanHicklestein) September 10, 2019
What could cause such a steep drop in defensive productivity? The team is more or less the same as they were in 2016, except for Nick Castellanos and Ian Happ, who have not dragged down the DEF rating this much. The answer could be in the recently fired manager, Joe Maddon.
Maddon was known as the "Mad Scientist" for his reputation as someone who changed his lineup regularly and was always on the wild side when it came to his team bonding activities. One of his calling cards was to move players around on defense. In recent years, the Cubs have deployed starting catcher Wilson Contreras in left field, relief pitcher Travis Wood in left field, and Gold Glove right fielder Jason Heyward in centerfield.
#RememberWhen the Cubs put Travis Wood in Left field?

Worked like a charm. #FlyTheW pic.twitter.com/4lucuGiuOL

— ChiSportsMania ™ (@ChiSportsMania) September 14, 2018
Heyward specifically mentioned all this moving around as a reason the team hasn't played well on defense.
While talking with NBC Sports Chicago's Kelly Crull, Heyward said, "It's tougher, when you have moving pieces because the game is different in different spots. You just try to keep an overall mindset of do what you can, keep it simple, prepare the best way you can for that night and go from there."
While Heyward's quote makes it sound like the Cubs players don't know what position they're playing daily, there has been less defensive moving around this year than in 2016. Wilson Contreras stays mostly at catcher, same with Javier Baez at shortstop and Kris Bryant at third base. Heyward is one of the players who has moved around the most, mostly between center and right field.
Heyward is the most interesting player to focus on when talking about defense. He is a five-time Gold Glove winner in right field but has players more and more centerfield with the Cubs. That change has had a detriment on his play.

As Heyward begins to age, his defense seems to be getting worse overall, but that is expected due to age. What isn't expected is for someone who is getting worse defensively to play more centerfield every year the past two years. While there is still a five-time Gold Glove player in Heyward, it seems the more he plays centerfield, the worse he gets at playing right field.
As the Cubs look for a new manager, it would make sense to look for someone who will try to bring back the Cubs' defense. Someone who won't try to change too many player's regular positions and finds a way to bring the best out of this team.