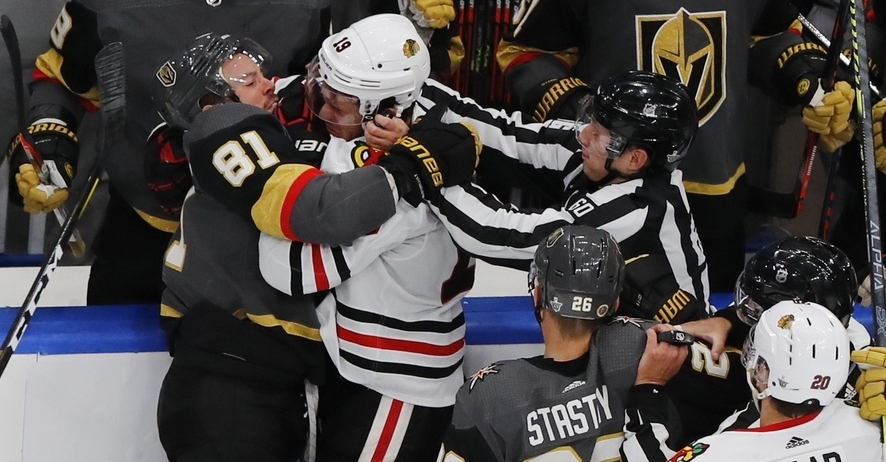 | | |
| --- | --- |
| Vegas overpowers Blackhawks in Game 1 | |
---
| | | |
| --- | --- | --- |
| Wednesday, August 12, 2020, 9:52 AM | | |
After pulling off the stunning upset in the NHL playoff qualifying round, the Chicago Blackhawks earned their ticket to the postseason as the No. 8 seed in the Western Conference. If their first matchup in Canada wasn't tough enough, this one was sure to be as Chicago must contend with the red-hot Vegas Golden Knights who pulled off some upsets of their own, earning to land the No. 1 overall seed.
With their first series being all about offense, last night, we caught a glimpse of what can happen if the Blackhawks struggle to score goals. It wasn't as Chicago only put 20 shots on goal last night with the defensive allowing 34 helping the Golden Knights take game one rather easily 4-1.
These two teams met three times this season, but haven't played each other since early December. As the first period went on, both sides felt each other out with neither Corey Crawford nor Robin Lehner getting tested much. After firing up some early shots on goal, the Blackhawks went without a chance for nearly 10 minutes in the first period as both teams looked extremely sluggish playing to a 0-0 tie after one period of play.
The second period is when things began to open a bit offensively, although both teams started slowly again. With much of the country still in awe of the 5OT game between Tampa Bay and Columbus, seeing a game knotted at 0-0 without much action was what I like to call a snoozer. We finally started to see some life as the midway portion of the period approached.
Just over seven minutes into the second, Vegas struck first with Shea Theodore taking an Alec Martinez, and Reilly Smith assist in burying his third goal of the postseason. Just two minutes later, it was William Carrier finding goal for the second time as the Golden Knights doubled their lead quickly at 2-0. Ryan Reaves and Nicolas Roy earned the assist.
In desperate need of some offense, Chicago didn't make things easy on themselves as they were forced to play a man down with the game in danger of slipping away. Instead, the Blackhawks relied on Brandon Saad to control the puck on the offensive end finding David Kampf for the short-handed goal just over 10 minutes into the second and just like that we had a 2-1 game. That was the first goal of the postseason for Kampf as the Blackhawks remained down a goal after two periods of play.
Being down a goal was something the Blackhawks were quite familiar within their first series, but they somehow managed to rally several times to prevail. If Chicago has any hope of advancing once again, they will need to finish strong and be willing to take the best punches Vegas has to offer. On this night, however, the third period belonged to Vegas as Smith put home not one, but two third period goals to take a 2-1 lead and turn it into a 4-1 game eight minutes in. Those were Smith's first two goals of the postseason as Jonathan Marchessault earned the assist on both.
Facing their largest deficit of the postseason, Chicago found themselves in unfamiliar territory as they were down big with not much time left. Despite their best efforts, they were unable to solve their former backup in Lehrer in goal with Vegas taking game one of the best of seven series 4-1. Chicago will return to the Ice Thursday as they will be looking to even the score.
MVP: Despite allowing four goals in the game, Crawford continues to get tested coming up big several times en route to 30 more saves. It was only a matter of time until the Blackhawks defense tired out as they continue to allow 30 plus shots a contest. Kampf and Saad were the offensive stars in the loss with Kampf picking up the goal and Saad with the assist.