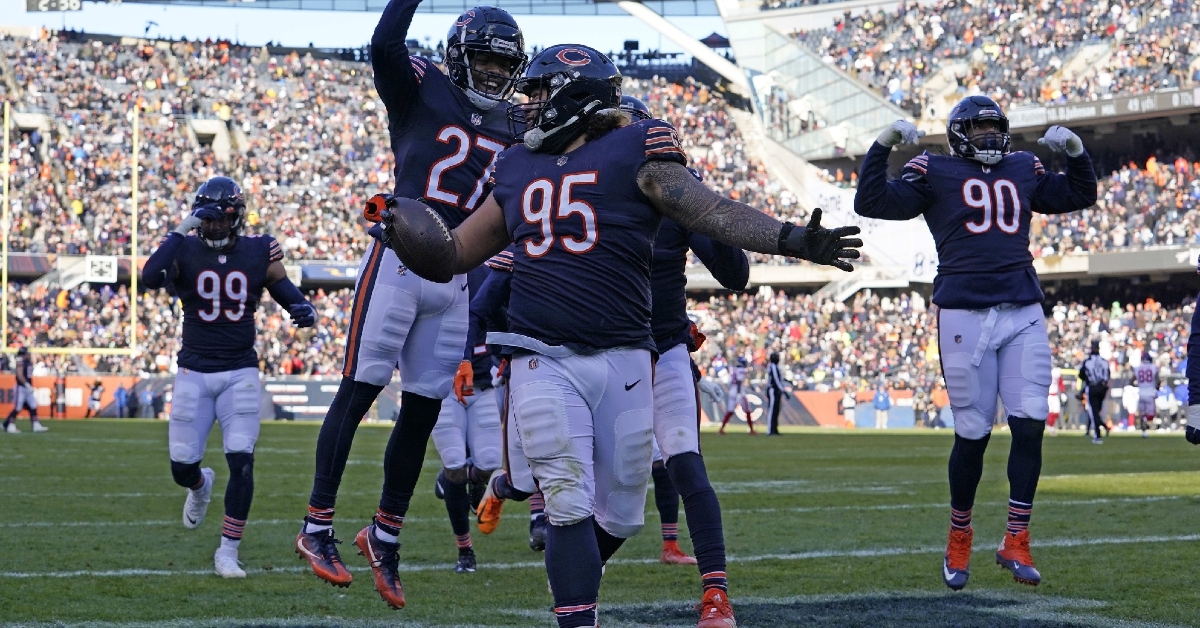 | | |
| --- | --- |
| Chicago Bears vs. Atlanta Falcons: Preview and Prediction | |
---
Week 11 of the NFL season carries a bit more meaning this year for the Beras than in seasons past. Sure, the Bears enter the game with a 3-7 record, while Atlanta is 4-6, but there is much more to dive into apart from that.
For starters, with a win, the Bears would move into a tie with the Green Bay Packers in the NFC North, would be tied with the Atlanta Falcons record-wise, and would move ahead of the Falcons in the playoff picture should it come down to it. A loss for Chicago puts them in front of Atlanta in the draft order, but has the Falcons still within striking distance of the Buccaneers for the top spot in the division.
This is a game of who wants it more, as both teams have been struggling recently. The one thing the Bears have going for them is that their offense has been clicking for a while now, and if their defense could hold up even a little bit, they could be a much better team. This may be the week their defense will step up and lead them to a win. Here are some things to look for and a prediction for Sunday.
How will the loss of Herbert affect the Running game: Over the past six weeks, no team has run the ball better than Chicago, as they have topped 200 yards rushing as a team in all of those games. They now lead the NFL in rushing yards per game at 194 yards, and the offense has been on another level.
Bears Running game
A big reason for that has been Justin Fields, who continues to set all kinds of QB records for rushing yards with each start. However, the Bears still have David Montgomery and Khalil Herbert taking some carries as they have a tremendous three-headed monster attack. Things will look a bit different this week as Herbert is officially on IR for the next few weeks.
That means Montgomery will not only have to shoulder the load, but Fields will have to use his legs more than ever before. That could be a good or bad thing, depending on how you look at it, but look for rookie Trestan Ebner to get a few more touches as he looks to fill in for Herbert.
79 yards or less
I know what you are thinking. What do 79 yards or less have to do with this game? Well, a lot, as this is a significant number for the Bears to keep an eye on. This number revolves around second-year TE Kyle Pitts and how the team plays when he reaches that number.
Granted, Pitts is having a down year this season compared to his rookie year, but the Falcons know the recipe for success, and he is a big reason for it. Since coming into the league in 2021, the Falcons are 5-0 when Pitts has 80 yards receiving or more, including 2-0 this season. Yes, a small sample size, but the team plays better when he gets more involved in the game.
With the Bears defense struggling to get much of anything done lately, he should be the primary focus for Chicago. Slow him down, and that offense becomes an enigma as the Falcons continue to scrap and claw for every point.
787 would be nice
Sticking with the numbers theme, the Bears enter Sunday's contest with 786 wins, tying them with the Green Bay Packers for the most wins all-time. Whenever you are mentioned in that category, you marvel at the long-term success, but you hate to share anything with Green Bay.
Considering how the Packers fell to Tennessee on Thursday, the Bears have a shot at retaking the lead for most wins as a franchise. How nice would that be not only to grab a win here, but to have the Packers potentially lose to the Eagles next week before these teams meet again? This is just another fun nugget to watch for on Sunday.
Prediction: BEAR DOWN 34-24
If anything, Chicago Bears football is finally worth watching again as the offense continues to put on a great show. However, if the defense doesn't turn things around, wins will not be easy, as you can't allow 31 points and expect to win.
Even at that, Chicago is fortunate enough to see an Atlanta team with playmakers, but for whatever reason, lacks the explosive big-play ability you would think. Against this defense, the Falcons should be able to get some of those big plays, but I still like the Bears in this one as they go into Atlanta and win 34-24.