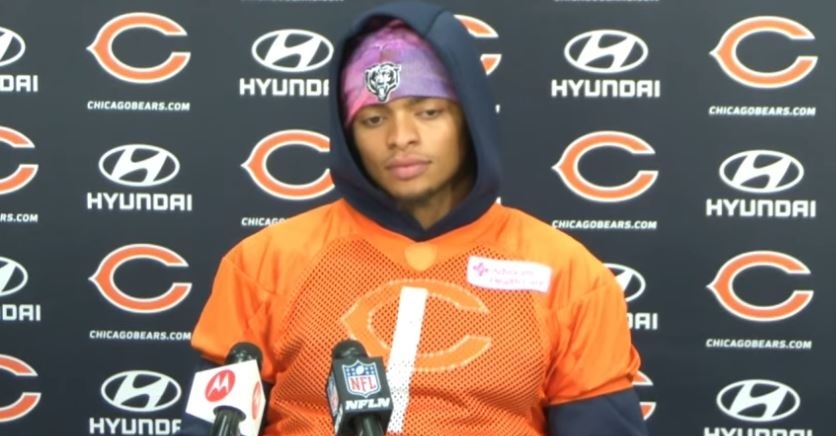 | | |
| --- | --- |
| Justin Fields discusses his injury | |
---
Talking with the media on Wednesday, second-year quarterback Justin Fields provided an update on his injury, although he did not reveal anything about his status for the upcoming game against the New York Jets this coming Sunday (12 p.m./FOX).
"It's a separated shoulder with a partially torn ligament. Basically, it's an AC joint," Fields said. "It's just some movements that I do with my arm, it hurts it a good bit. So, like I said, I'm just trying to work through those motions and kind of get my arm used to moving in those particular motions."
Currently, he is listed as questionable for the game Sunday. While on the other side of the ball, the Jets second-year quarterback Zack Wilson has been benched and will be inactive for the game. So, this game will not be a battle of two of the first-round quarterbacks from the 2021 NFL Draft. But in regards to Fields playing status, he said the decision has been put more into his hands.
"Coach (Eberflus) pretty much said it was up to me. They want the best thing for me," Fields said. "So, he said, if I feel like I can play, if I feel that I can go out there and protect myself, and stuff like that, I'd be able to go. So, I'm just going to see how it feels each and every day and just play by ear."
Fields suffered the injury against the Atlanta Falcons this past Sunday when the Bears fell 27-24 after he threw an interception with 1:13 left in the game. He actually apologized to his team after the game, saying the defense gave them a chance and he needs to get better in those situations.
"They gave us the (opportunity). Of course, any time we have that opportunity to go tie the game or even win the game for the team, you know, we want to do that. So, I just apologized to those guys, especially that game-ending pick. They did their job holding them to a field goal," Fields said. "I just need to get better in those situations and keep going."
The Jets are actually one of the best rushing defenses in the NFL, ranked No. 9 overall in the NFL in rushing yards per game allowed. As Fields is the NFL's fifth-leading rusher with 834 yards on only 122 attempts, averaging 6.4 yards per carry, he may sustain a lot of hits going against such a physical defense. Furthermore, the Jets are a highly-ranked passing defense, being ranked No. 10 in the NFL and have the fourth-most sacks out of any NFL team with 32 this season. So, Fields could get hit a lot if he were to play against the Jets.
The backup for Justin Fields is Trevor Siemian who has been in the NFL since 2015. However, he hasn't started a game since November of last season. Siemian played in 2019 with the Jets, although he only started one game. He has also played against the Jets once in his career. Back in December when he started for the Denver Broncos, Siemian defeated the Jets 23-0, throwing for 200 yards, a touchdown, and two interceptions. He was also sacked three times for a loss of 33 yards.
With Siemian at quarterback, the Bears would be a drastically different team. While Fields runs the ball far more, Siemian is more of a pocket-passer and only has 203 career rushing yards. This would most likely give fourth-year running back David Montgomery, as well as rookie Trestan Ebner, more involvement in the running game.