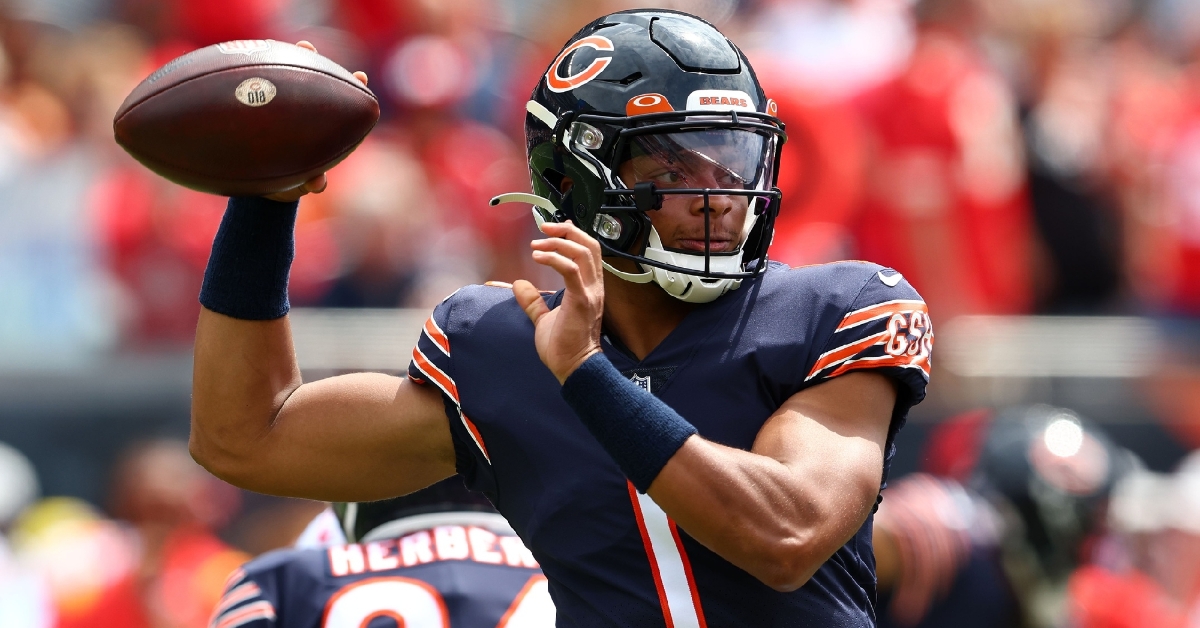 | | |
| --- | --- |
| Three Takeaways from Bears win over Chiefs | |
---
Now that the first week of the preseason is over, and the Bears came away with a win, it is almost time to focus on week two. Unlike last game, where they had weeks to prepare for it, Chicago will be on a short week this week as they play the Seattle Seahawks on Thursday night.
Before we begin to look at that game, it is time to look back at Saturday from the game that was. Chicago had to dig deep down and battle back as they fell behind 7-0 early when Patrick Mahomes was on the field and then fell behind 14-0 at one point.
After that, it was all Chicago as they closed the game with 19 unanswered points and came away with a 19-14 win. It was nice to see the Bears come away with a win, even if it is just the preseason, as football is back in Chicago.
Here are three takeaways from that game:
Opportunistic Defense
Back in 2018, when the Bears went 12-4 en route to the NFC North title, they did so with a defense that led the NFL in virtually every category. In the years since, Chicago has gone through three different defensive coordinators the last four seasons, and the results of that have shown negatively.
Not only has this defense fallen to the middle of the pack at best, but the one thing they were known for has become a thing of the past: forcing turnovers. After leading the league in turnovers in 2018, the Bears haven't finished higher than 18th in the years since, and that is not going to get it done when your offense struggles to produce.
Saturday was a pleasant surprise as the Bears showed an opportunistic defense under Alan Williams to force three early second-half turnovers that led to 16 of the team's 19 points. No one is saying they expect that to happen every week, but if that is how Williams wants his defense to play this season, big things will follow.
I love how quick Jaquan Brisker (9) processed in his #Bears debut yesterday.

On this play, he moves from hashmark to hashmark in a flash and is quick to diagnose the route concept. Think he's a Day 1 impact player for this defense. pic.twitter.com/Tf0ypClTai

— Jacob Infante (@jacobinfante24) August 14, 2022
Trevor Siemian shows up
Unlike last season, where the starting QB role was in question, this year it is all about Justin Fields and what sort of growth he will make. Behind him comes a massive battle as Trevor Siemian and Nathan Peterman are going to battle it out for the backup job.
No one is going to sit here and say either one of them is better than Andy Dalton, but you could argue that they are better than Nick Foles, which could put the Bears in a better position should something happen to Fields this season. Siemian has the upper hand through one game as he played exceptionally well on Saturday.
Granted, he didn't throw for a ton of yards, but he didn't need to as the Bears defense gave him short fields to work with, which resulted in a pair of touchdown passes. Not much of a starter for most of his career, Siemian has had his opportunities in the past, going back to his rookie season in Denver and then last year with New Orleans.
It is last year that stands out the most as he filled in for the injured Jameis Winston and Taysom Hill. Granted, the wins were not there, but the numbers were as Siemian was playing the best football of his career last season. Whether that was the system he was in or not is the next question, but he looked good on Saturday, so hopefully, that continues.
Trevor Siemian tossing a dot to Dante Pettis on 4th down. ?? #DaBears

??: #KCvsCHI on @NFLNetwork
??: Stream on NFL+ https://t.co/3mvoWh7UD3 pic.twitter.com/hjZ1SS8UZJ

— NFL (@NFL) August 13, 2022
Ever since losing Robbie Gould several years ago, the Bears special teams unit has been hit or miss. They have tried different kickers, and although most of them have had success, the success was limited, and thus the Bears moved on from them sooner rather than later.
However, ever since Cairo Santos was added to this team, not only has he shown long-term success with this team, but he has been a top 10 kicker accuracy-wise the past two seasons and had one of the longest streaks of not missing a kick to end 2020 into 2021.
He could be the X-factor on the team this season, as special teams are often overlooked. When it comes to an offense, their goal is to put points on the board. However, it doesn't take a rocket scientist to figure out that you will not score touchdowns on every possession. That is where having a reliable kicker comes into play, and Santos has been that and more.
The more kicks he makes, the more the team will trust him in crucial spots. Scoring points is what will win this game, and if some of those points come from Santos, you have to like your chances to win games. Look for him to have another big season in 2022.
Cairo Santos kicks the FG to give the Bears 19-14 lead! pic.twitter.com/CoXvxbq5rO

— Greg Braggs Jr. (@GBraggsJr23) August 13, 2022
Upgrade Your Account
Unlock premium boards and exclusive features (e.g. ad-free) by upgrading your account today.
Upgrade Now