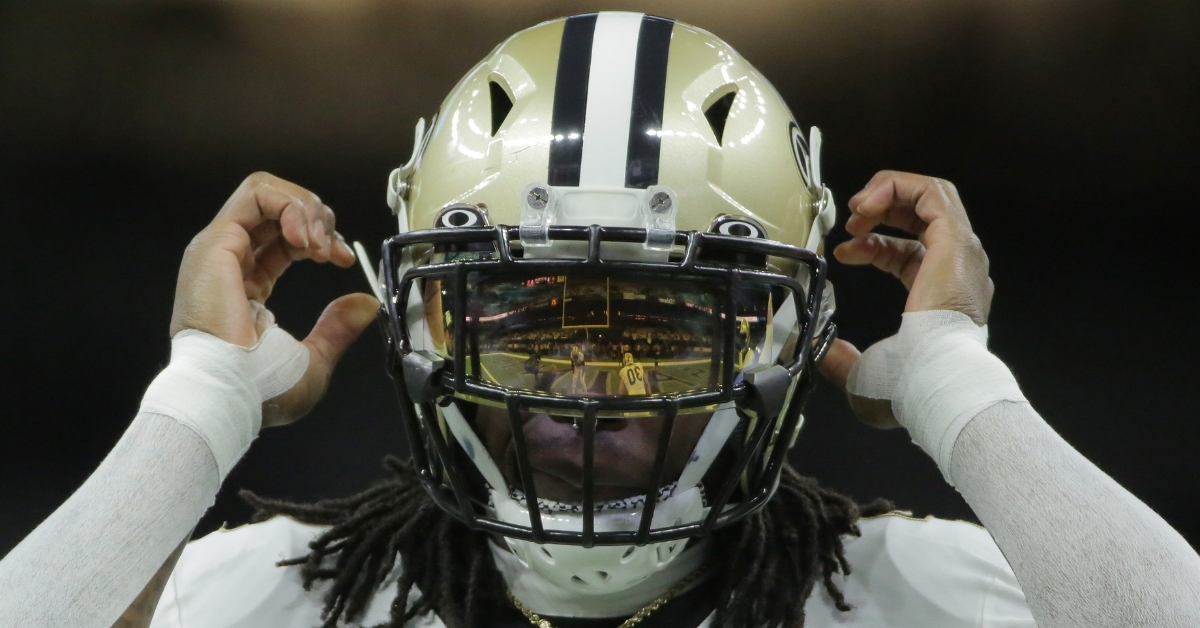 | | |
| --- | --- |
| Are the Saints shopping Alvin Kamara? | |
---
Yesterday we touched on the Bears reaching out to Leonard Fournette about bringing him in for one year. With a tight salary cap and not much to work with, I tend to think that possibility is a little farfetched. However, could the Bears trade for running back help given the David Montgomery injury?
We know the injury isn't as serious as everyone thought, but expect Chicago to be patient with him and ease him back slowly. That could mean they are in line for running back help, and why not inquire about Alvin Kamara from New Orleans. I know what your thinking. If Fournette is too much, how would Kamara fit? Well, for starters, Kamara is asking for a little below Christian McCaffery money but is still under contract for much cheaper.
Secondly, the Saints have made it public that they are willing to shop Kamara meaning his desire to get 16 million dollars per year may go out the window. We know the Bears are tight on cap space, but trading away some cap for a guy like Kamara will not only make this team better but will also help in terms of cap relief.
The problem with making a trade for a guy like Kamara would be the return the Saints would want a lot. Ideally, I would ship some draft picks to them, but Chicago has already lost too many of those to give up more. You must then look at the players on this roster and who you think we would be ok with parting with.
I'm told #Saints RB Alvin Kamara is in the building, and that the team is also expecting to see him practice. Both sides will continue to talk through an extension. A potential trade still remains on the table if top-round draft compensation is offered, per source this morning.

— IG: JosinaAnderson (@JosinaAnderson) September 2, 2020
Defensively, I like all our guys, so my first choice certainly wouldn't be on that side of the ball. Offensively, unless we are willing to give up some of our key weapons, what move makes the most sense for both sides? I have an idea that could work if New Orleans is that serious about shipping him out.
I love what the Bears have in the backfield this year, but no one would argue that Kamara would make us a better team. With Montgomery sidelined the first couple of weeks, we need to rely on a running back by a committee led by Tarik Cohen to pick up the slack. Cohen had a shot to be the starter last season but isn't suited to be a bell-cow type of back.
Oddly enough, Cohen and Kamara play a similar game style, but Kamara is the better overall back. We have seen how good Cohen can be in the passing game, but Kamara could lead the Bears in receiving if Chicago used him enough. Kamara is also a great running back where Cohen struggles. I'm sure the Saints are just using the trade talks as leverage in terms of contract Discussions, but realistically a Cohen for Kamara trade would work for both sides.
Let's say the deal does get done for fun. Not only are you getting a top-five back in Kamara, but you're getting him cheap as he will be under the final year of his rookie contract and making just 2.1 million this season. Cohen, on the other hand, is making upwards of nearly five million this season as trading him not only frees up more cap space but adds a new dimension to that offense.
From @GMFB: The curious case of #Saints RB Alvin Kamara took over the NFL yesterday, but cooler heads are prevailing. The two sides will continue to work on a long-term deal, and he'll be back at practice. pic.twitter.com/JDrCqI0cxI

— Ian Rapoport (@RapSheet) September 2, 2020
Both players are the same age, and both players have shown the ability to play considerable roles in both the rushing and passing game. However, Kamara is the total package as he surpassed nearly 1500 yards from scrimmage last season to go with 12 scores. In his career, Kamara has rushed for 2408 yards and 27 scores while adding 243 receptions for 2068 yards and 10 more scores. To sum things up, Kamara is the perfect fit for what Nagy likes to do on offense.
Ever since being drafted, Cohen has fit nicely into the Bears offense as a pass-catching back. The only problem has been his success on the ground hasn't equaled his receiving output. Given how much Nagy likes to have his backs involved, Kamara would be ideal for Chicago.
Not only will he provide a more rounded passing game approach to the offense, but you can count on him just as much on the ground to take the load off both Mitch Trubisky and Nick Foles. Adding a guy like Kamara will also allow Montgomery to be a change of pace back, and he could very quickly be the type of player he was in college.
While I don't think this trade is anywhere close to happening, I think it is a win-win for both teams. Not only would the Bears get a complete back for their system, but the Saints would get a back in return who won't demand Kamara money. If I was Ryan Pace and I had to package a deal together, I would do the following.
Chicago gets Alvin Kamara- New Orleans receives Tarik Cohen, Darnell Mooney, or Riley Ridley and a third-round pick in 2021.
Upgrade Your Account
Unlock premium boards and exclusive features (e.g. ad-free) by upgrading your account today.
Upgrade Now