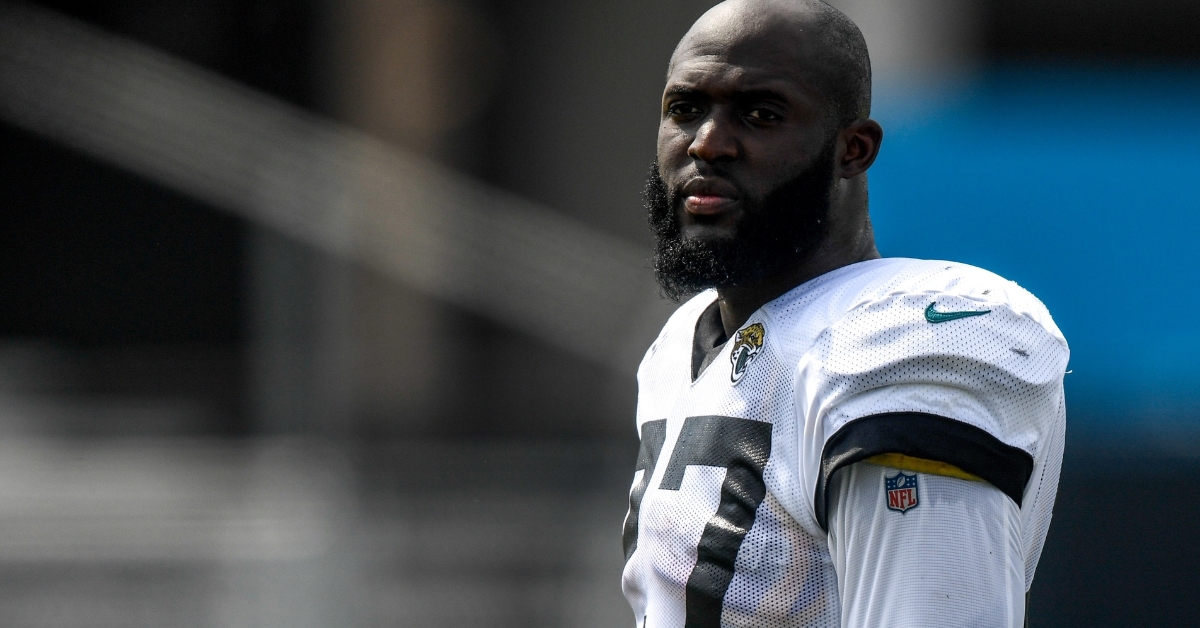 | | |
| --- | --- |
| Should the Bears look at Leonard Fournette? | |
---
| | | |
| --- | --- | --- |
| Tuesday, September 1, 2020, 12:11 PM | | |
Less than a week ago, Chicago was gearing up for the NFL season with a relatively strong running back group. Then, David Montgomery went down with a non-contact injury, which was revealed to be only a groin strain. While a groin strain is certainly dodging a bullet, Montgomery is sidelined, and his status for week one is up in the air. Who's to say this injury could linger and force him to miss more time than anticipated.
As of now, the Bears are most likely going to go with Tarik Cohen and others to fill the void for Montgomery, but what happens if the injury is bad enough to sideline him for an extended period. Running backs like Devonta Freeman are certainly on the market, but a new name is looking for a home after a surprising release over the weekend.
In case you didn't know, the Jacksonville Jaguars released 2017 first-round pick Leonard Fournette making him a free agent to sign with anyone. Although the money most likely would be too much to entertain, Chicago would be a fool not to consider bringing him in for one season.
When healthy, we know the type of Running Back Fournette is. Not only is he a pro-bowl type of back, but he can lead the league in rushing if appropriately used. Adding him to this Bears offense would not only make it more diverse, but it would allow Chicago to fully let Montgomery heal, making sure he is truly 100% ready to go. Fournette would also give the Chicago offense another weapon for teams to plan against, which is never an easy thing to do.
Chicago recently signed Napoleon Maxwell in the wake of the Montgomery injury, but Fournette is out there to be had. Over the past two seasons, it has been well documented about Fournette's displeasure with the Jaguars organization, and it was clear that it couldn't be mended. That forced Jacksonville to make the tough decision to cut ties when he still had time left under his rookie deal.
Should Matt Nagy and Bill Lazor be in the market for a difference-maker on offense, then Fournette is your man. At just 25 years old, Fournette has a lot of tread left on his tires and has rushed for more than 1000 yards twice in his three years as a pro. That is something Chicago hasn't done since Jordan Howard accomplished that feat in 2017.
Along with being a great rusher, Fournette added to his game by becoming a pass-catching threat in 2019. Along with 1152 yards on the ground, Fournette caught 76 passes for 522. Putting that under the microscope, in his first two seasons, Fournette caught just 58 passes for 487 yards combined, so that right there shows you the significant strides he has made as a player.
Fournette certainly has the talent to continue being a top-five back, but the tension between him and the ownership couldn't be fixed. Maybe a change of scenery is exactly what he needs. Jacksonville's tension seems to be a growing problem as Yannick Ngakoue was traded to the Vikings over the weekend, leaving seven million dollars on the table to go. That is a ton of money, so something is causing some player unrest in Jacksonville.
Even if Montgomery is not lost too long, Chicago could still make this move to not only give their offense a boost, but their running back room a boost also. Montgomery came into this league as a rookie last season and won the starting job by week three, but adding a proven back in Fournette is hard to pass up. I believe Montgomery is going to be very successful in the NFL. Still, I also think playing behind a guy like Fournette and splitting carries early in his career will help with durability long term.
Montgomery rushed for nearly 900 yards last season but struggled in yards per carry averaging just 3.7. Outside of his injured plagued 2018 that saw him average only 3.3 ypc, Fournette has had no issues moving the pile as he has consistently averaged 4.3-4.6 ypc. With Chicago already brining in Nick Foles from Jacksonville this offseason, Fournette would have some continuity with one of the Quarterbacks on the roster.
Do I expect Chicago to make this move? No, at least not if Montgomery is only going to miss a week or two. However, if we see Montgomery start to miss upwards of a month or more, you may see Chicago ultimately decide to put him on IR to let him heal fully. That would open the door for Fournette and the team to reach a one-year deal, and that would go a long way in helping this offense reach the next level.
Thank you, Jacksonville ???? pic.twitter.com/LcckBRao4k

— 7? Leonard Fournette (@_fournette) August 31, 2020