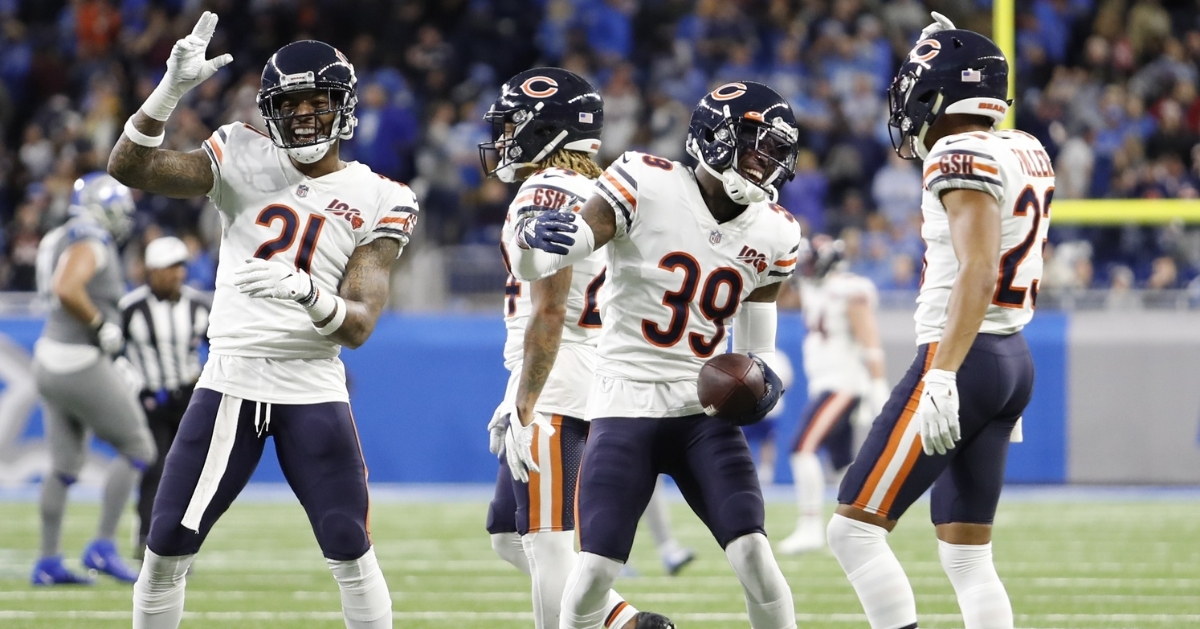 | | |
| --- | --- |
| Three Bears' Takeaways from win over Lions | |
---
| | | |
| --- | --- | --- |
| Monday, December 2, 2019, 11:15 AM | | |
Don't look now, but suddenly the Bears are not only fighting their way back into the playoff hunt but playing their best football of the season. That was once again the case this past Thursday when Chicago held off a late Detroit rally to win their second straight game and improve to 6-6 on the season and 3-1 within their division.
The final score may not have indicated how good the Bears played, but it was the way they won that has fans starting to believe that this team may have figured things out at the perfect time. Here are some takeaways from another big win.
1. Trubisky can lead a team to victory
After nearly two months of sub-par play that had fans calling for his head, Mitch Trubisky has discovered something in recent weeks which has transformed the dynamic of the Bears offense. After several decent showings, Trubisky put on a show Thursday afternoon to deliver one of his, if not his best performance in a Bears uniform.
After missing the Thanksgiving game last season with an injury, Trubisky put on a show going 29-38 for 338 yards 3 touchdowns and just one interception. With the Running game struggling until the fourth quarter, Trubisky put the team on his back and proved he can lead a team to victory when called upon.
Trailing by three late in the fourth, Trubisky orchestrated a near-flawless game-winning drive which was capped off by a tough David Montgomery three-yard touchdown. Should the Bears offense continue to deliver much as they did on Thursday, things could get very interesting down the stretch for this team.
2. Better Offensive line Play
All season long, we have been discussing the play of the Bears offensive line and just how much worse it has been in only one year. Whether that has to do with the number of injuries they have suffered will never be determined, but the fact of the matter is that this unit hasn't played to the level they expect from themselves.
After Nagy and the Coaching staff made a few offensive line shuffles a few weeks ago, it has proved to be a big difference as suddenly, not only the running game is gaining more consistency, but overall pass protection also. That was on full display Thursday as the Bears allowed just one sack against the Lions.
Even though the running game still hasn't gotten consistently on track, keeping Trubisky upright has also been a considerable problem for Chicago all season. His struggles I feel have come from constantly being pressured, and once given time, he has shown he can make the plays you expect a first-round pick to make. If the Bears are going to keep this momentum going, the continued improvement from the line is something this team will undoubtedly need down the stretch.
3. Playing with confidence
Last season, confidence was never an issue as the Bears were one of the best teams start to finish. After a strong 3-1 start this season, the bears stumbled going 1-5 over the team's next six games leading to plenty of question marks. Now, it seems as if some of those question marks are getting answered as the Bears have moved back to 6-6, keeping themselves in the playoff hunt.
Yes, the Bears have now won 3 of four and two straight, and despite wins against the Giants and Lions who are not high-quality opponents, it is the way the Bears are winning that stands out. Not only has their defense gotten better as they seem to be adjusting to Chuck Pagano's system, but the offense has joined in on the party to play the best they have all season.
Whether that is Matt Nagy and his staff adjusting or the Bears just realizing that their season is on the line each week is another question. Still, the fact of the matter is that this team is playing confident football right now, and the results are certainly showing that. When a team plays with confidence, they can beat anyone in this league, which is the trend the Bears are heading in.
We already know their defense can shut down some top tier offenses, but if their offense can continue to score 24 points a game, that makes them that much tougher to beat in all three phases. Chicago knows a lot must happen to make the playoffs at this point and with games against the Cowboys, Chiefs, Vikings, and Packers, yet this season, it will not be an easy road. However, for the first time all season, it appears Chicago has some of that swagger back and are gaining more confidence with each passing week.