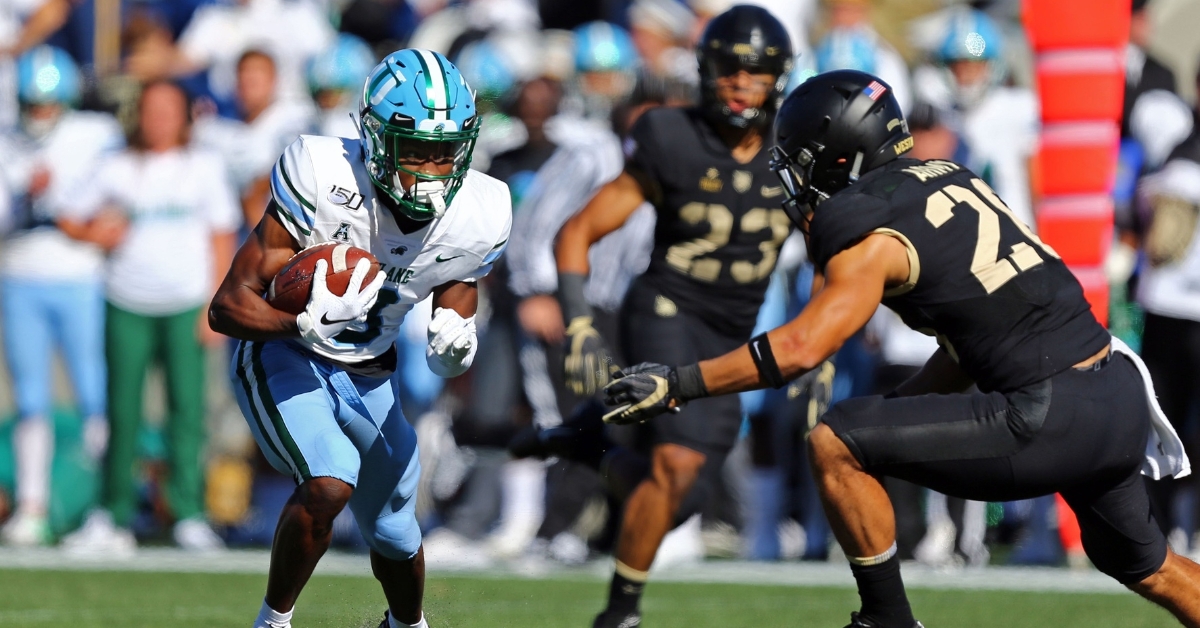 | | |
| --- | --- |
| Getting to know: WR Darnell Mooney | |
---
While the Bears defense continues to be one of the best in the game, they lack the offensive firepower to be able to make up for games in which the defense comes out flat. Looking to add offense this offseason to make the team better, the Bears went out and acquired Nick Foles in March, bringing some much-needed competition to the QB room moving forward.
While Chicago is always going to be a run-first team, they needed to add more weapons to the passing game to help take the pressure of David Montgomery in the trenches. Guys like Allen Robinson and Anthony Miller are great players to build around, but with Riley Ridley and Javon Wims as your next two receivers, you are left with a thin group.
Speedster Taylor Gabriel was supposed to help with that, but after an injury, last season, the Bears elected to part ways this offseason leaving not only a gaping hole in the receiver group but losing significant time speed also. Well, could that problem be solved with the Bears' final selection of a skill player in this year's draft. It was their final pick in the fifth round that saw the Bears select Tulane burner Darnell Mooney in hopes he can be the deep threat they are looking for.
Let's be clear, at 6-1 170 LBS, Mooney is by no means going to body up anyone in the NFL, so his primary focus is going to be one thing, stretching the field. Mooney is a burner and ran a 4.38 at the combine, so adding a deep ball presence to a passing game that is mainly short and underneath routes will be a pleasant surprise and addition that could finally unlock Mitch Trubisky's real talent.
In four seasons with the Green Wave, Mooney hauled in 154 catches for 2572 yards (16.7 per completion) and 19 scores. His best season was his junior year when Mooney caught 48 passes for 913 yards (20.7 average) to go with eight scores. He followed that up with 713 yards on 48 catches as a senior and five more scores on his way to a day three selection in the draft.
Due to his lack of size, lining him up in a slot position makes the most sense, but one of his strengths is his ability to move both outside and inside as his speed helps him burn by defenders out wide. Teams must respect his speed as if you play too close, he gets separation quickly, and if you play too far back, you won't have the speed to keep up. Not to mention he has the potential to take a short slant to the house, and defenses cringe when he is on the field.
For his lack of pure size and height, Mooney is very good at tracking deep balls, which plays into another strength for him. He has excellent instincts and always seems to have his body in position to make the play. Not only is speed an asset but so is leaping ability as he has springs in his legs that allow him to high point the ball and make great catches. To prove my point, all his touchdowns during the 2019 season were contested in some aspect showing he can get it with the best of them.
Looking at all those pros about him, you would get the sense that he would be higher than a fifth-round pick. That may have been the case a few years ago, but there was so much depth at the WR position in this year's draft that it didn't shock me at all too see him fall to day three. Some of his weaknesses he can't control, especially when you talk about his skinny body build. Yes, he can put on some weight, but not enough to change his build.
That smaller frame certainly brings durability into question, especially when he will be taking more hits and harder ones at the NFL level. Not only does he appear to be in a hurry to get from point A to point B in his routes, but he doesn't pay attention to detail as much as he should compromising on some of his routes to just get to the ball. That often led to disappointing drops on shorter throws as he didn't let the play fully develop.
As expected, one of the biggest flaws in his game is something he will have to work on immensely in the NFL, and that is dealing with physical corners. He may be fast, but he is small, so matching up with physical corners was a struggle for him. Keeping him on the inside may help eliminate some of that, but not completely.
Player comparison: The best player I would compare Mooney to is that of current San Francisco 49er Travis Benjamin with a Taylor Gabriel as a close second. Both Mooney and Benjamin are similar in size, although Mooney has three inches on him in the height category. Both of their 40 times were nearly identical, and Benjamin used his speed to carve out a tremendous special teams' career before getting more time at receiver. Mooney has yet to have much experience at special teams, but you can bet the Bears will try him at some point.
Upgrade Your Account
Unlock premium boards and exclusive features (e.g. ad-free) by upgrading your account today.
Upgrade Now