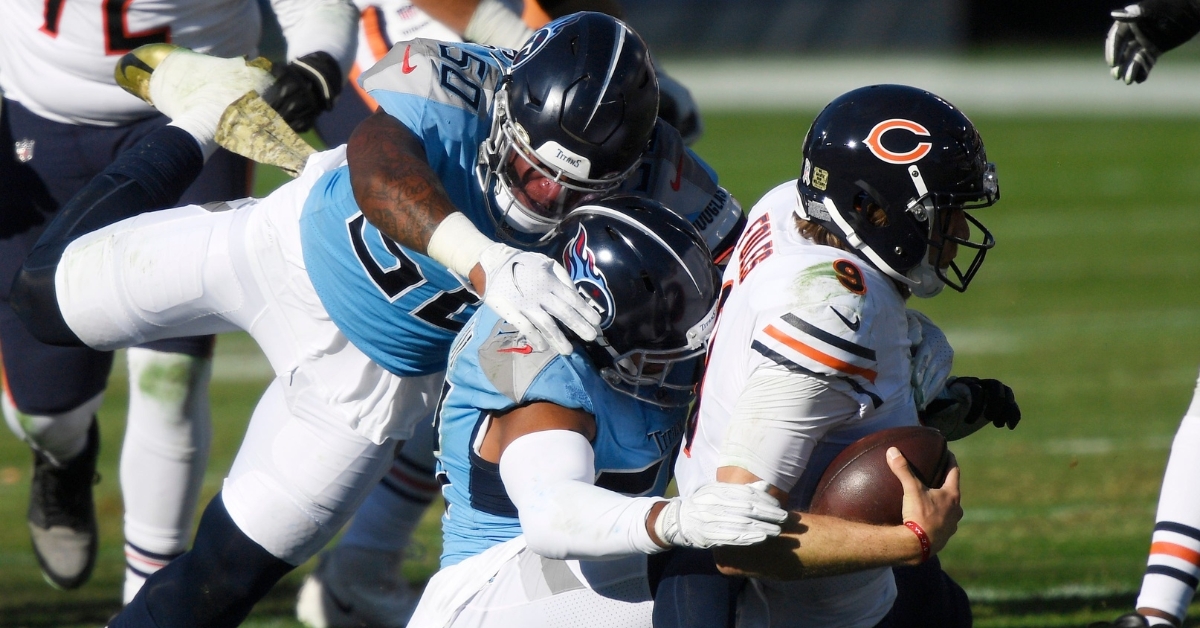 | | |
| --- | --- |
| Three Takeaways from Bears' loss to Titans | |
---
The Bears season is slowly slipping away as they fell to 5-4 Sunday with a 24-17 loss to the Tennessee Titans.
The loss now marks three consecutive defeats for Chicago as they will have an extra day's rest before hosting Minnesota on Monday night in week 10. While most fans are ok with losing here and there, the way the Bears have been losing late is concerning as this team simply isn't what many thought they were early on.
Or maybe they are who everyone thought they were, and that 5-1 start was just a tease in the worst way. Chicago continues to show no signs of turning things around offensively, and the defense can only play at an elite level for so long. Things will worsen before they get better for Chicago, and as of right now, the Bears are out of the playoff picture. Here are some takeaways from the game.
Give the Bears defense some credit: All season long, at least since the second half of week three, the Bears defense has carried this team. The offense has struggled in seemingly every game, but one, and yet has found a way to win five games this season. The problem now is the offense is not finding ways to win games, and the defense can't win games on their own.
The Bears did a phenomenal job containing Derrick Henry as they held him to under 70 yards on the ground. They also held Ryan Tannehill to less than 200 yards passing. Looking at numbers like that and you would think the Bears had this game won by a mile. That was not the case, and once again, the Bears inability to do anything on offense consistently hands them another loss.
The Bears Defense: The Bears offense: pic.twitter.com/saBYvYrMEB

— Bears Nation (5-4) #ExtendARob (@BearsNationCHI) November 9, 2020
Matt Nagy is broken and cannot be fixed: When the Bears brought in Matt Nagy to be their head coach, fans were under the impression that he would transform this team into a legitimate offense. Instead, what we have seen over his three years, and the last two have been an inconsistent offense who struggles to score.
Yesterday was another prime example of that as the Bears fell behind 24-3 after three quarters. Chicago did mount a fourth-quarter rally where they scored 14 points before coming up short, but that was it. You can expect a team to win games if they play one good quarter every game and three bad quarters.
Something needs to be fixed and fixed in a hurry. A large part of the offensive struggles is the lack of a running game and offensive line on display again. The line held up much better, but the running game was nonexistent with David Montgomery rushing for less than 40 yards. That forced Nick Foles to throw the ball more than 50 times.
Granted, he completed 36 of his passes for 300 plus yards. You can't expect the Bears to win if Foles is tossing 50 passes. He is not built that way, and if those are the numbers the team is getting, they are in trouble. Chicago needs to be more balanced, and at this point, I don't think they can be.
The Bengals didn't have a single starter on the offensive line for the Titans game, Jadeveon Clowney was active, and they still put up 31 points

There are no excuses for the Chicago Bears offense. It is simply broken.

— Brad Spielberger (@PFF_Brad) November 9, 2020
Cause for concern: When the Bears got off to their 5-1 start, most experts looked at this part of their schedule as the telling story to their season. This was the challenging part of their schedule, and if the Bears got through it, a post season berth was almost inevitable.
Now, the Bears hopes of a postseason berth are slipping away by the week as they have dropped three straight contests to fall to 5-4. When you look at the teams, they lost to in the Rams, Saints, and Titans, and it is understandable to lose some of those games. Even though they could have beaten both the Rams and the Saints.
The reason for concern, however, is the way they are losing these games. For the most part, the Bears defense continues to play well, but they haven't been their usual self over the past two weeks. If they continue to struggle and you couple that with the anemic offense, Chicago will not win many more games this season.
If the Chicago Bears offense was a character from The Office: pic.twitter.com/RmiYSrAwiL

— Bears Nation (5-4) #ExtendARob (@BearsNationCHI) November 8, 2020
This offense has been stuck in reverse for quite some time, and it appears to be getting worse every week. Looking at the Bears the next two weeks, Chicago needs to win one of those two games if they expect to make the postseason.
Say what you want about Minnesota next week and their struggles at Chicago, but the Vikings are starting to come together at the right time, so that game will not be a cakewalk. The Bears are in a must-win situation over their next few games, and it is time for them to get things done.
Upgrade Your Account
Unlock premium boards and exclusive features (e.g. ad-free) by upgrading your account today.
Upgrade Now